Hudson City Bancorp Jumps On M&T Settlement and 2 More Heavily Traded Stocks to Follow
Hudson City Bancorp (NASDAQ:HCBK): Current price $8.57
Hudson City shares moved up Tuesday on word that M&T Bank Corp. (NYSE:MTB), the lender that deferred its acquisition of the former during a Federal Reserve inquiry into money laundering, has reached an accord with the regulator to improve compliance. M&T's resolution with the Fed boosted investor confidence regarding the eventual completion of the deal, according to the analyst Gerard Cassidy at RBC Capital Markets, who commented: "It's definitive now. Everyone knows what they have to do, when they have to do it by." M&T has reported an agreement in August, worth $3.7 billion at that time, to purchase Hudson City as part of an effort to expand in New Jersey.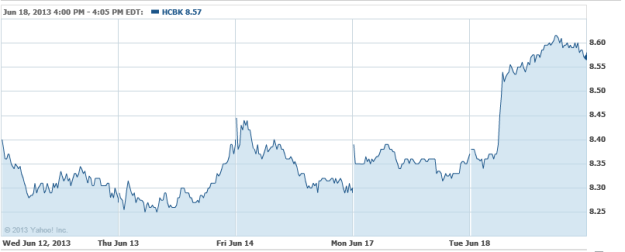 Gevo (NASDAQ:GEVO): Current price $2.07
The fuel and chemical maker Gevo has restarted its commercial output of isobutanol at its plant in Luverne, Minnesota. Isobutanol is an alternative to ethanol which is blended into fuel. Gevo. Chief Executive Patrick Gruber reported in a Tuesday statement that there was a bit of microbial contamination at the facility that the firm has since learned the manner in which to control and manage by making equipment alterations, changing fermentation conditions and enhancing operating procedures. The firm foresees increasing isobutanol production and sales this year and also in 2014.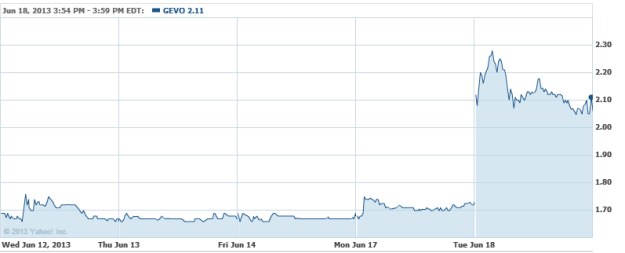 Cytokinetics Incorporated (NASDAQ:CYTK): Current price $1.89
The firm announced Tuesday that results from ATOMIC-AHF have been accepted for presentation during a Hot Line Late Breaking Trials Session at the European Society of Cardiology Congress 2013.  ATOMIC-AHF is a Phase IIb clinical trial created to study the safety, tolerability and efficacy of an intravenous formulation of omecamtiv mecarbil, compared to placebo in patients suffering from left ventricular systolic dysfunction and are hospitalized with acute heart failure.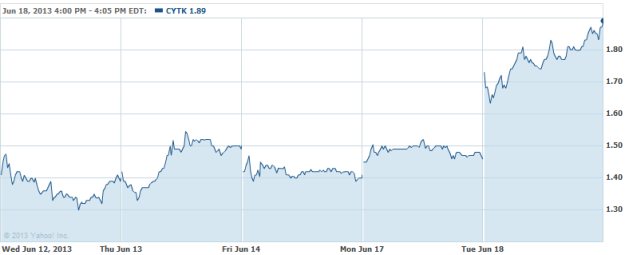 Don't Miss: The 4 Most Expensive Places To Live in the United States.