Hudson's Bay Is Putting Saks in Its Shopping Bag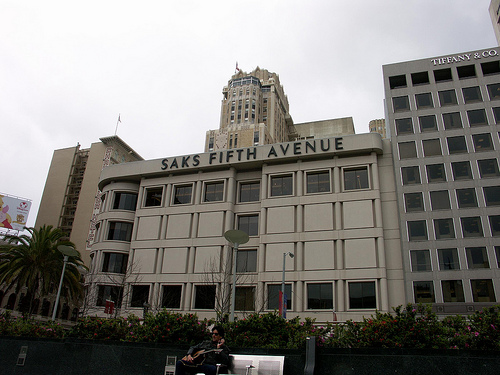 Hudson's Bay Co. is buying the luxury department store Saks Inc. (NYSE:SKS) in a $2.4 billion deal that will put Saks, Lord & Taylor, and Canadian department store Hudson's Bay together under the same company, The New York Times reports.
The move will allow Hudson's Bay to bring Saks Fifth Avenue and Off Saks outlet stores into Canada. Saks, which was founded in New York in 1924, still hasn't fully recovered from the massive hit it took during the recession, but the company is optimistic about the opportunities Hudson's Bay will give its stores. Saks operates a number of locations that have been unprofitable, and the merger would allow Hudson's Bay to swap those locations out for the more moderately priced Lord & Taylor.
"We are excited about what this opportunity and being part of a much larger enterprise can mean for the future of the Saks Fifth Avenue brand," Saks CEO Steven I. Sadove said to the Times.
Saks shares have climbed since the company announced it was contemplating a sale earlier this year. Hudson's Bay has agreed to pay $16 per share for the company, 4.5 percent higher than the price Saks closed at on Friday and 30 percent higher than in May before rumors of a possible sale began to emerge, The New York Times reports.
According to The Wall Street Journal, the deal may have as much to do with real estate as it does luxury clothing. Hudson's Bay CEO Richard Baker was a real estate investor before he entered the retail business by purchasing Lord & Taylor and Hudson's Bay. Of most interest is Saks's Fifth Avenue location in Manhattan, worth an estimated $805 million. Including that store, all of Saks's properties are worth around $1.5 billion, according to an analyst cited by the Journal.
The merger will turn Hudson's Bay into a powerful player in the retail world, with 320 locations across North America. Luxury retail has struggled to make a comeback after the recession, so a move that puts the lower-end Lord & Taylor under the same roof as Saks Fifth Avenue will allow the company to better target customers and move out of unprofitable locations while providing Hudson's Bay with its huge amount of real estate value.
Follow Jacqueline on Twitter @Jacqui_WSCS
Don't Miss: From Payroll to Payday Loans, Wal-Mart Wants to Be in Your Wallet.