Huge Verizon Deal Possible & 3 Dow Movers to Follow on Tuesday
Procter & Gamble Co. (NYSE:PG): Current price $76.44
Natura Pet Products is voluntarily recalling certain lots of dry pet food which have the potential of being contaminated with Salmonella, although no related illnesses have been reported thus far. The bacteria can affect animals eating the products and there is risk to humans from handling contaminated pet products, if they have not thoroughly washed their hands after having contact with the products or any surfaces exposed. Routine testing by the Michigan Department of Agriculture collected from a single retail location has tested positive for the presence of Salmonella, so as a precautionary move, Natura is voluntarily recalling all products from this production window.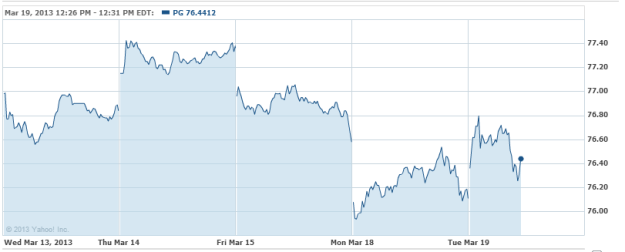 AT&T (NYSE:T): Current price $36.20
Major Internet providers seem to have talked their way past unwanted new recommendations on cybersecurity. An original draft of a report by an advisory panel to the FCC approved a list of specific suggestions for the top telecommunications and cable firms to address the cybersecurity problem. but those measures were not supported in the final report released Monday night, according to the Wall Street Journal.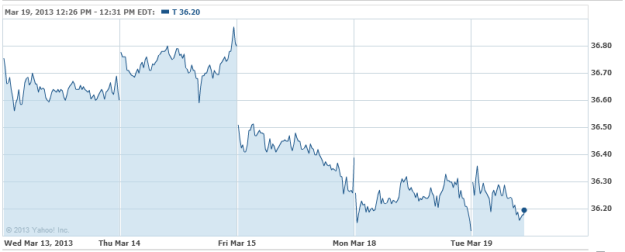 Verizon Communications (NYSE:VZ): Current price $48.74
Chatter is rising that Verizon might purchase its remaining 45 interest in Verizon Wireless from Vodafone (NASDAQ:VOD) of the United Kingdom, which  could be the biggest telecom sector deal since the reconstruction of AT&T, says The Street. The prospective acquisition might be financed in current markets and could allow Verizon full control of the number one wireless carrier asset in the world, while helping to save the firm almost $10 billion in wireless dividends that flow to Vodafone.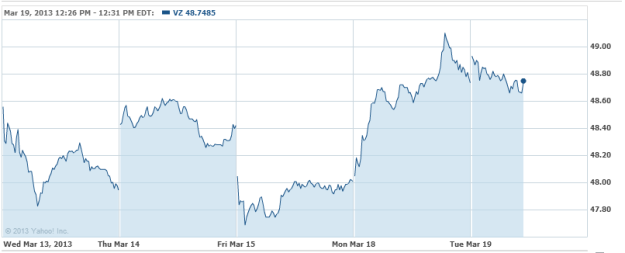 Wal-Mart Stores (NYSE:WMT): Current price $72.28
India might have opened its retail industry to overseas participation in September, but the biggest global "multi-brand" retailers such as Walmart, Tesco , and Carrefour have been leery of entering its market due to the prevailing unfavorable regulations, according to Financial Times.

Don't Miss: David Einhorn's Vodafone Call is Picking Up Reception.
Don't Miss: Apple's Pipeline: Flush with iPads.