Human Genome Sciences Earnings: Fully Commercial, But Losing Money
Human Genome Sciences, Inc.'s (NASDAQ:HGSI) loss widened in the first quarter, as the company's results were dragged down by higher costs. Human Genome Sciences, Inc. is a commercially focused biopharmaceutical company advancing toward the market with three products in late-stage clinical development.
Don't Miss: Wall St. Cheat Sheet's newest Feature Trades of the Month!
Human Genome Sciences Earnings Cheat Sheet for the First Quarter
Results: Loss widened to $131 million (69 cents/diluted share) from $47.9 million. That's a change of 173.6% YoY.
Revenue: Fell 42.9% to $26.6 million YoY.
Actual vs. Wall St. Expectations: HGSI fell short of the mean analyst estimate of a loss of 50 cents/share. Estimates ranged from a loss of 39 cents per share to a loss of 69 cents per share.
Quoting Management: "With the approval and U.S. launch of BENLYSTA for the treatment of systemic lupus, HGS has achieved its goal of becoming a fully commercial biopharmaceutical company," said H. Thomas Watkins, President and Chief Executive Officer. "BENLYSTA will be the most important driver of our growth over the next several years."
Key Stats:
Over the last five quarters, revenue has increased 7.7% on average year over year. The biggest increase came in the third quarter of the last fiscal year, when revenue rose more than twofold from the year earlier quarter.
Competitors to Watch: GlaxoSmithKline plc (NYSE:GSK), Immunomedics, Inc. (NASDAQ:IMMU), Teva Pharmaceutical Industries Ltd (NASDAQ:TEVA), Amgen, Inc. (NASDAQ:AMGN), Biogen Idec Inc. (NASDAQ:BIIB), AstraZeneca plc (NYSE:AZN), Merck & Co., Inc. (NYSE:MRK), Idenix Pharmaceuticals, Inc. (NASDAQ:IDIX), Vertex Pharmaceuticals Inc. (NASDAQ:VRTX), and Peregrine Pharmaceuticals (NASDAQ:PPHM).
Today's Performance: Shares of HGSI are trading up 0.17% after hours.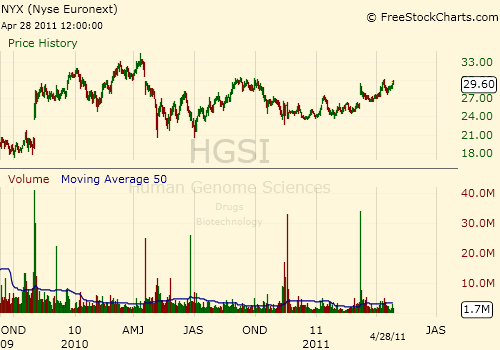 Don't Miss Wall St. Cheat Sheet's newest Feature Trades of the Month!