Hyatt Hotels Corporation Earnings: Getting More Profit on Higher Revenue
Hyatt Hotels Corporation (NASDAQ:H) reported net income above Wall Street's expectations for the first quarter. Hyatt Hotels Corporation provides hospitality services on a worldwide basis through the management, franchising and ownership of hospitality related businesses.
Don't Miss: Wall St. Cheat Sheet's newest Feature Trades of the Month!
Hyatt Hotels Earnings Cheat Sheet for the First Quarter
Results: Net income for the lodging company rose to $10 million (6 cents/share) vs. $5 million (3 cents/share) in the same quarter a year earlier. A twofold rise from the year earlier quarter.
Revenue: Rose 4% to $875 million YoY.
Actual vs. Wall St. Expectations: H reported adjusted net income of of 7 cents/share. By that measure, the company beat the mean estimate of 5 cents/share. Estimates ranged from a loss of one cent per share to a profit of 10 cents per share.
Quoting Management: Mark S. Hoplamazian, president and chief executive officer of Hyatt Hotels Corporation, said, "Transient demand was very strong in the first quarter with both occupancy and rate improvements across many markets. We are very pleased with the performance of our hotels, particularly the strong continuing increases in RevPAR in our Hyatt Place and Hyatt Summerfield Suites properties. Customer response to these brands has been excellent and we are seeing renewed developer and owner interest in expansion. The consistent increases in market share across a large number of our select service hotels tells us that we have a great platform on which to build a significant network of great properties. This will benefit our corporate and leisure guests who stay with us at Hyatt Place and Hyatt Summerfield Suites properties. Our international hotels continued to perform well and we saw particularly strong performance in China and Brazil. There was some increased volatility in the results in the first quarter due to the devastating earthquake and tsunami and aftermath in Japan, as well as specific events in the Middle East and North Africa, but demand throughout Asia Pacific and Latin America was strong."
Competitors to Watch: Starwood Hotels & Resorts Worldwide, Inc (NYSE:HOT), Marriott Intl., Inc. (NYSE:MAR), Silverleaf Resorts, Inc. (NASDAQ:SVLF), ILX Resorts Incorporated (ILXRQ), Morgans Hotel Group Co. (NASDAQ:MHGC), Bluegreen Corporation (NYSE:BXG), Red Lion Hotels Corp. (NYSE:RLH), Gaylord Entertainment Co. (NYSE:GET), InterContinental Hotels Group PLC (NYSE:IHG), and Sonesta Intl. Hotels Corp. (NASDAQ:SNSTA)
Stock Performance: Shares of H are unchanged from the previous close of $44.14.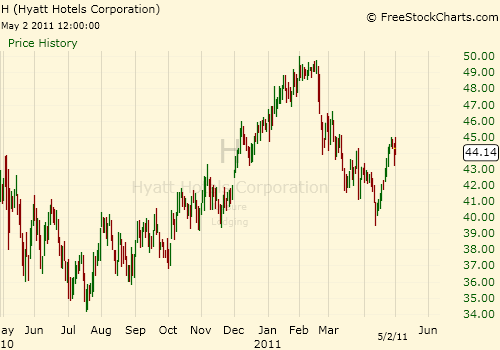 Don't Miss Wall St. Cheat Sheet's newest Feature Trades of the Month!