IBM Acquires UrbanCode and 2 More Dow Movers to Watch
International Business Machines Corporation (NYSE:IBM): Current price $192.20
IBM has purchased UrbanCode, which is based in Cleveland, Ohio. The firm automates the delivery of software, assisting businesses in rapidly releasing and updating mobile, social, big data, cloud applications. UrbanCode's software is a natural extension of IBM's DevOps strategy, which was formed to simplify and quicken the entire software development and delivery process for businesses.  The new capabilities also complement IBM SmartCloud and IBM MobileFirst initiatives by facilitating clients delivering software through those channels.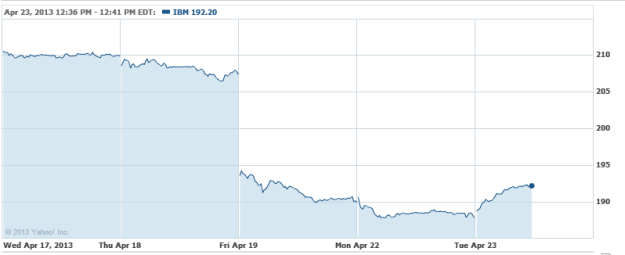 JPMorgan Chase & Co. (NYSE:JPM): Current price $48.21
Chase Blueprint has debuted a new initiative and resource center for those concentrated on helping consumers take steps toward an improved financial future. The Resource Center for Mindful Spending was unveiled at Washington Post Live's Kitchen Table Economics forum last week, and arrives while 76 percent of Americans say that their personal finances are stable or improving, marking an 11 percent increase over 2012. The data come from the latest Chase Blueprint Pulse of the Consumer Survey, released on Monday.

The Travelers Companies
(
NYSE:TRV
): Current price $86.75
Travelers announces significant improvements to its e-CARMAsuite of risk management information tools and services, such as adding a new Claim Management Dashboard and an expansion of the capabilities of its Risk Analyzer dashboard. Travelers National Accounts and Risk Management Information Services developed the upgrades, which will soon be available to all e-CARMA users. This new Claim Management Dashboard is fully interactive and enables one step for customers to analyze open claims, along with an interactive listing of claims in which recent activities might have a significant impact on overall loss costs.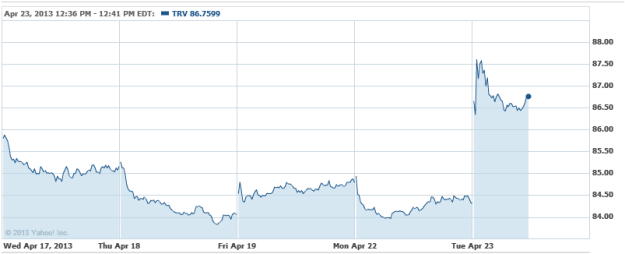 Investing Insights: Is SINA A Buy?