IBM Checks Out Rackspace and 2 Dow Movers to Follow
International Business Machines Corporation (NYSE:IBM): Current price $214.31
Shares of the cloud computing firm Rackspace Hosting (NYSE:RAX) have moved up after tech blog GigaOM reported late Friday that IBM had explored a purchase of the company. The former IBM executive Barb Darrow said that IBM was looking at Rackspace "as of a month or so ago," in addition to being "very interested" in buying the privately-held cloud company SoftLayer. Darrow also said that EMC (NYSE:EMC), which had also been reportedly interested in SoftLayer, was unlikely to acquire it, citing sources close to the matter.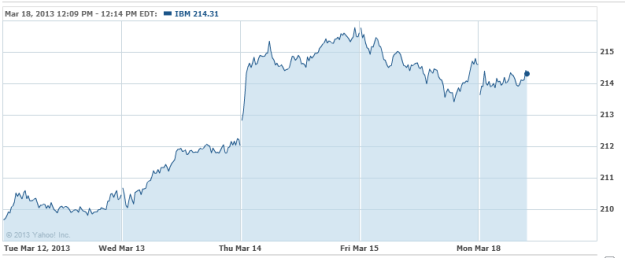 JPMorgan Chase & Co. (NYSE:JPM): Current price $49.39
Following the Friday hearing investigating the "London Whale" losses incurred by JPMorgan, Senate aides are searching out inconsistencies in statements made by Chief Executive Jamie Dimon and former Chief Financial Officer Doug Braunstein, particularly concentrating on statements in regards to modifications to models and reporting of positions to regulators, says Financial Times. Beyond that, the report said that referrals may be made to securities regulators and the justice department and that the Securities and Exchange Commission is already looking at disclosures from Dimon and Braunstein on an earnings call made in April 2012.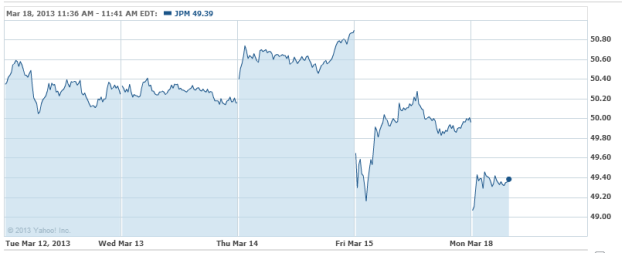 Microsoft Corporation (NASDAQ:MSFT): Current price $28.23
Advanced Micro Devices (NYSE:AMD) will work jointly with Aviary to bring an optimized version of its photo editing tool to Windows 8 PCs and tablets powered by AMD accelerated processing units. Backed by an investment through AMD Ventures, Aviary has optimized its new software development kit for Windows 8 to exploit unique AMD APU architectural advantages. Aviary also has launched its first Windows 8 app through the Windows Store, to highlight the features and functionality of the Aviary SDK for Windows 8.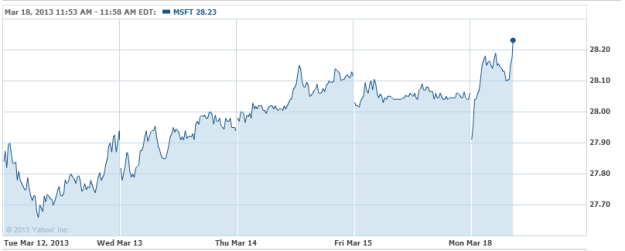 Don't Miss: Why Is Google Quoting Steve Jobs?