IBM Faces Justice Department Inquiry and 2 Other Dow Movers To Watch
International Business Machines Corporation (NYSE:IBM): Current price $205.18
IBM has new problems — thus far it has not managed to resolve bribery charges with the U.S. Securities and Exchange Commission, and now it faces an inquiry by the Justice Department into its worldwide compliance with the Foreign Corrupt Practices Act, as the Department is looking into specific transactions in Poland, Argentina, Bangladesh and Ukraine, along with reviewing IBM's public-sector business, according to an April 30 filing, which also said that IBM is cooperating with the investigations.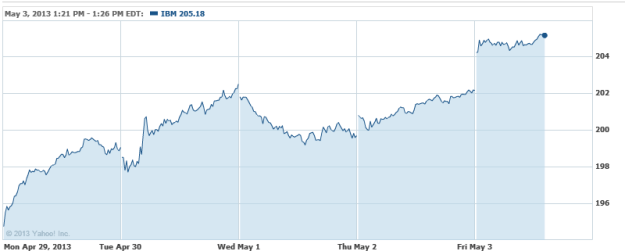 Verizon Communications (NYSE:VZ): Current price $52.67
Vodafone Group (NASDAQ:VOD) might garner $100 billion from its investment in United States mobile-phone venture Verizon Wireless, but the cash-strapped government of the United Kingdom likely won't see a penny of it due to an automatic exemption. The price for Vodafone's 45-percent interest, which partner Verizon Communications says it would be willing to pay, indicates that the value of Verizon Wireless has tripled since it was created. In the usual case, companies must pay a corporate tax rate of 23 percent on gains in the U.K., but though no arrangement or structure  has been announced, Vodafone could get away with paying zero, because of the so- called substantial shareholding exemption.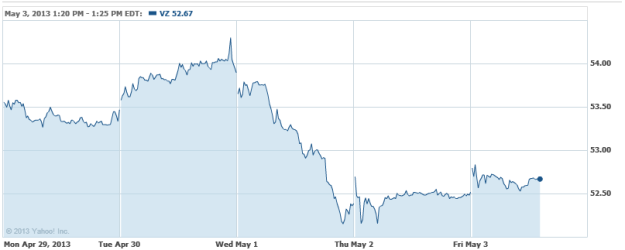 Exxon Mobil Corporation (NYSE:XOM): Current price $89.85
On Thursday, Exxon officials and regulators were checking out the cause of a small oil leak from the Pegasus pipeline in southeast Missouri, marking the second leak from the 850-mile pipeline within a month. This latest leak was uncovered Tuesday near Doniphan, Missouri, a small town just north of the Arkansas border. Roughly one barrel spilled into retiree Robert Cooley's yard. Spokesman Russ Roberts said Thursday that the cleanup was almost complete, commenting that "ExxonMobil is working with the U.S. Department of Transportation and other regulators to determine the cause of the leak, but it appears a third party might be involved."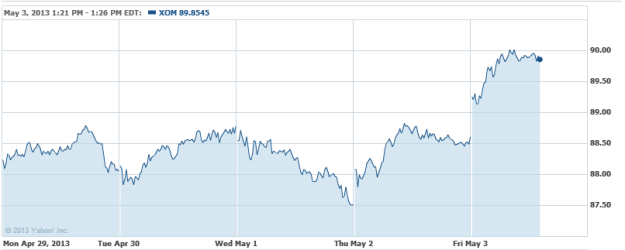 Investing Insights: Can Dell See Higher Prices?