IBM Holds Its Biggest Euro-Bond Sale Ever and 2 Other Dow Movers to Watch
International Business Machines Corp. (NYSE:IBM): Current price $179.32
In its largest ever bond sale denominated in euros, IBM is helping to fuel the busiest week for deals in the currency by American borrowers in six months. The computer-services provider is marketing 2.5 billion euros, or $3.4 billion, worth of seven- and 12-year securities after Procter & Gamble (NYSE: PG) and Coca-Cola Enterprises Inc. (NYSE: CCE) sold a combination of 1.1 billion euros of debt this week. Meanwhile, the average yield on investment-grade bonds in euros fell to a four-month low of 2 percent, which is 118 basis points below dollar rates, according to data from the Bank of America Merrill Lynch index. United States firms want to lock in lower borrowing costs since the European Central Bank promised to hold down interest rates to boost that region's budding economic recovery.

E.I. DuPont de Nemours & Co. (NYSE:DD): Current price $61.72
On Thursday, DuPont Pioneer and Precision BioSciences Inc. announced that the Plant Journal has published an article describing collaborative cutting-edge research through which to generate male-sterile corn plants. Researchers at Pioneer employed Precision's advanced genome engineering tech, DNE, to "knockout" or disable the function of the ms26 gene in corn. Eliminating this gene has allowed Pioneer to produce corn plants that are male-sterile, a powerful tool for hybrid seed production. The article further tells how the Precision and Pioneer research teams were able to optimize a DNE gene-editing tool to maximize its efficiency in corn.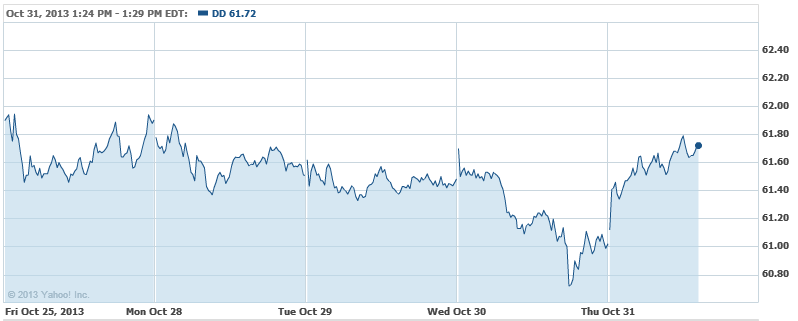 McDonald's Corp. (NYSE:MCD): Current price $96.43
In order to test sales of McCafe-branded packaged coffees at retail locations, Kraft has joined a comprehensive coffee collaboration in the United States with McDonald's. A test coming soon will provide McCafé in new formats that include roast-and-ground bagged coffee and single-cup offerings, which will be found in the coffee aisle of retail stores.

Don't Miss: Amazon to IBM: No CIA Contract for You!