IBM Launches 9 New Data Analytics Academic Partnerships and 2 Other Dow Movers to Watch
International Business Machines Corp. (NYSE:IBM): Current price $186.31
IBM has initiated nine new academic partnerships in data analytics, including new programs at George Washington University and Hult International Business School, which brings the total to over 1,000. The iconic tech firm's four-year campaign to close the "big data" skills gap is quickly gaining speed. In May, it counted the number of its academic partnerships at 300.
The director of IBM global university programs Jim Spohrer said that the company has a history of collaborating with institutions to form curricula around subjects like computer science and e-business, but it has never experienced such high demand as it has with big data. IBM estimates that approximately 4.4 million jobs will be created globally to support big data by 2015.

E.I. du Pont de Nemours & Co. (NYSE:DD): Current price $58.49
DuPont China Holding Co., Ltd. has reached a strategic cooperation agreement with GD Solar Co., Ltd., to advance photovoltaic tech, improve solar power output quality, and the reliability of solar energy systems to address increasing energy on a global basis.
Through the terms, DuPont will work jointly with GD Solar on the research and development of materials that are applied to GD Solar panels and systems. The company will supply crucial photovoltaic materials to GD Solar and will assist in optimizing the latter performance and application for integrated frames, high-efficiency solar cells and panels, new protective backsheet constructions, and other system components.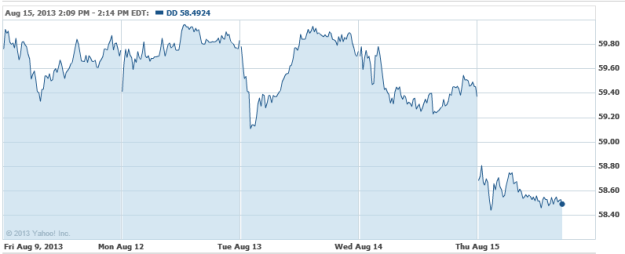 JPMorgan Chase & Co. (NYSE:JPM): Current price $53.09
Attorneys for one of two ex-JPMorgan Chase & Co. employees in London — now charged criminally in the United States — believe that he will be cleared of misconduct. On Wednesday, Javier Martin-Artajo was charged with conspiracy in New York. His lawyers released a statement stating he was on a long-planned vacation outside the United Kingdom and would be returning as scheduled. They said that he has cooperated with all internal and external investigations and that JPMorgan says he is confident he will be cleared.

Don't Miss: New iPad Mini: Same Production Strategy, Higher Resolution.