IBM Launches MessageSight and 2 Other Dow Movers To Watch
International Business Machines Corporation (NYSE: IBM): Current price $201.16
The corporation has initiated IBM MessageSight, its new appliance created to assist organizations in the management and communications with the billions of mobile devices and sensors located in systems like  automobiles, smart buildings, traffic management systems, and household appliances. Employing the Message Queuing Telemetry Transport tech, IBM MessageSight provides the performance, value and simplicity that organizations require, so as to accommodate the increasing numbers of mobile devices and sensors.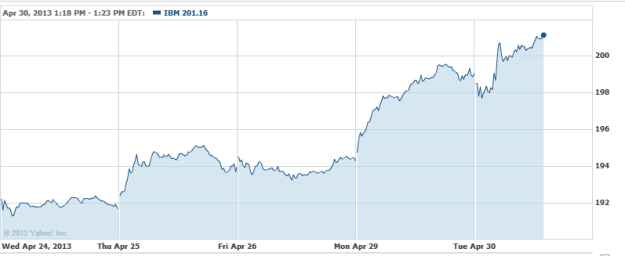 The Boeing Company (NYSE:BA): Current price $91.70
Chairman, President and Chief Executive Officer Jim McNerney announced that the board has declared a regular quarterly dividend of 48.5 cents per share, payable June 7, to shareholders of record as of May 10.

Merck & Co. (NYSE:MRK): Current price $47.20
The number-two domestic drugmaker said that a jury decided in its favor in a trial concerning claims that its Fosamax osteoporosis treatment caused a woman's femur to fracture spontaneously as she was gardening. The verdict was handed down in federal court in Trenton, New Jersey, according to a Merck statement, but it could not immediately be confirmed in court records. This case is the first of roughly 3,300 femur-fracture lawsuits against the firm to be decided by a jury. Bernadette Glynn sued Merck regarding claims that the firm was aware that Fosamax might cause brittle bones and thus increase fracture risks, years prior to the drug being available to the public.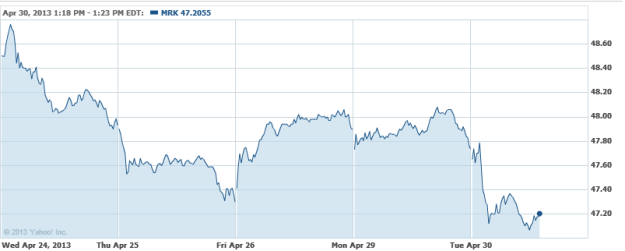 Don't Miss: Analyst: Apple Love Is Like Muscle Memory.