IBM Lowers US Workforce By 1,300 and 2 Other Dow Movers to Watch
International Business Machines Corporation (NYSE:IBM): Current price $202.29
Bloomberg is reporting that IBM has slashed its domestic workforce by 1,300, as part of its workforce rebalancing strategy, through which it is expected to spend around $1 billion in 2013, with the majority of the spending taking place in the current quarter. Alliance@IBM, which is affiliated with the Communications Workers of America, said that among the positions that are being cut, 222 persons were from the marketing wing and 165 from the research and development wing. In its first-quarter earnings release, IBM had said that most of the job cuts would be overseas; so far, the firm has begun 700 job cuts in Germany, 128 in Denmark and 250 in Italy, said Bloomberg.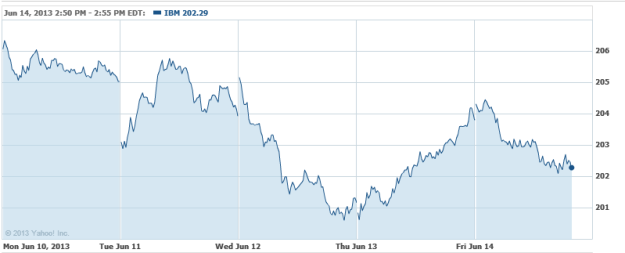 JPMorgan Chase & Co. (NYSE:JPM): Current price $53.06
On Friday, JPMorgan announced that its private equity division, One Equity Partners, will become independent, which will cap a 12-year run making direct investments for the bank. At this time, One Equity manages $4.5 billion worth of investments in medium-sized firms like Brazil's Allied Advanced Technologies and Chemlogics Group, based in California. The unit will raise its next fund from outside investors, as it continues to manage JPMorgan's portfolio of investments on an interim basis, according to a company statement.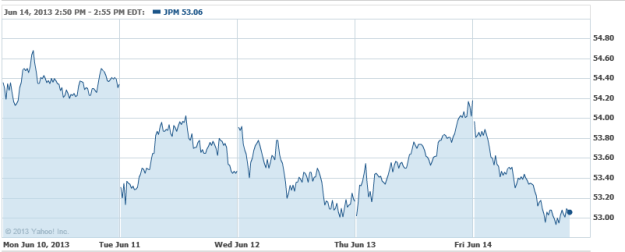 Microsoft Corporation (NASDAQ:MSFT): Current price $34.36
Microsoft has now launched a mobile version of its flagship Office productivity software suite for Apple's iPhone, reports The Motley Fool. The new application is a free download, available only to subscribers of Microsoft's cloud-based Office 365, who can access their Word, Excel, and PowerPoint documents from anywhere they choose, and files will synchronize and format automatically. Microsoft intends to continue adding value to Office 365 subscriptions, subsequent to recently expanding Skype calling, and adding features to OneNote.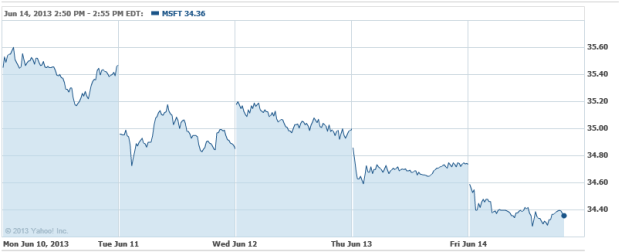 Don't Miss: What Trickery Did Sony Use to Get Past Apple?