IBM Named Leader in Mobile App Magic Quadrant and 2 Other Dow Movers to Watch
International Business Machines Corp. (NYSE: IBM): Current price $188.86
On Monday, it was announced that Gartner had positioned IBM as a Leader in the Magic Quadrant for Mobile Application Development Platforms. The new report puts IBM in the Leaders Quadrant, as measured by completeness of vision and execution ability of IBM Worklight, which represents IBM's mobile application development platform. Purchased by IBM in February of last year, IBM Worklight is a member of the IBM MobileFirst family of solutions. In only one year, IBM has moved up from the Niche Quadrant to the Leaders Quadrant.
Monday's announcement follows a series of impressive showings for IBM MobileFirst services and software capabilities, among which include IBM Worklight in Gartner Magic Quadrants this summer.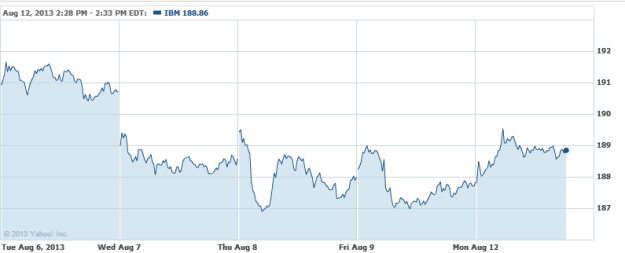 The Boeing Co. (NYSE:BA): Current price $104.07
The United States Defense Department has been awarded Boeing a modification contract worth $92.3 million. On the same occasion, the Department bestowed 14 new orders, worth roughly $640 million to several firms, including Lockheed Martin Corporation and Rockwell Collins Inc., among others.
Pursuant to the terms, Boeing will supply Block III Apache AH-64D attack helicopters and allied assistance to the Taiwanese defense force. The current accord is a continuation of an earlier awarded firm-fixed-price and option-filled contract. The present cumulative total face value of the deal stand at $716.7 million. This contract is through the United States Foreign Military Sales program under which the government buys defense items and services on behalf of international customers.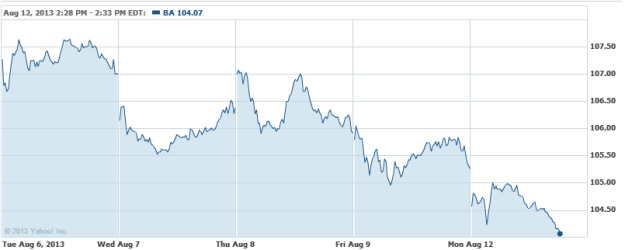 McDonald's Corp. (NYSE:MCD): Current price $97.11
On CNBC's Squawk on the Street on Monday, analyst Rachael Rothman at Susquehanna Financial Group said that "It's pretty tough" to make money in the restaurant space, as she observed that investors wanting exposure to the area should remain with large-scale firms such as McDonald's, or companies in a broader consumer category. Also, she suggested looking to companies gaining traction on same store sales commenting that, "There are definitely the haves and the have-nots." However, the senior research analyst Nicole Miller at Piper Jaffray said that in the group, fast food has been a bright spot versus casual or full-service restaurants.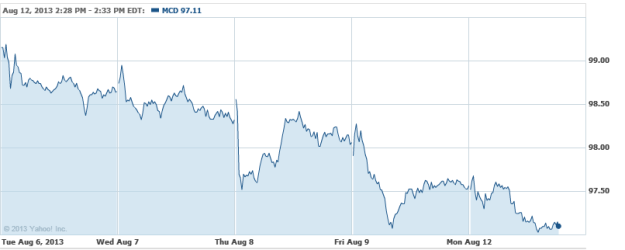 Don't Miss: Do Customers Believe Dell Is Too Big to Fail?