IBM PureSystems To Run Damco Data Center and 2 More Dow Movers To Watch
International Business Machines Corporation (NYSE:IBM): Current price $205.27
On Monday, IBM said that the Moller–Maersk subsidiary Damco, will replace its existing information tech infrastructure with a datacenter built on IBM PureSystems. Through the accord, which marks the biggest single deployment of PureFlex Systems on a global basis, IBM will also supply outsourcing services. The new tech and services were created to provide a solid foundation for Damco's future growth and will also permit the flexibility the company needs to address new trends and business demands in the market.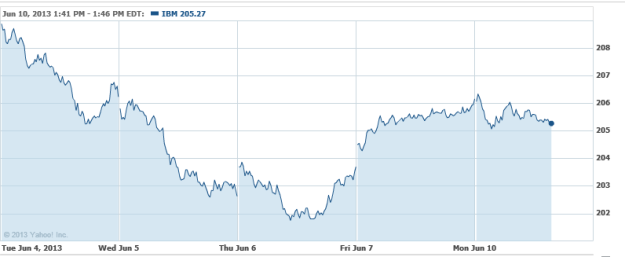 Wal-Mart Stores (NYSE:WMT): Current price $76.02
At the annual meeting last week, Chief Executive Mike Duke and two other board members got less than 90 percent of shareholders' votes, while probes of allegations of bribery abroad went on. Duke received 87.9 percent of votes for re-election, Chairman Rob Walton 89.9 percent, and the audit committee Chairman Chris Williams received 87.8 percent, according to a Monday statement. Wal-Mart, together with the Justice Department and the Securities and Exchange Commission, is examining claims that its executives in Mexico paid over $24 million in bribes to expedite its expansion there, and also is looking into operations in Brazil, India and China. The percentage of votes for Duke, Walton and Williams were higher than at the 2012 annual meeting, but all three won 99 percent or more of the vote before that year, when the bribery allegations appeared.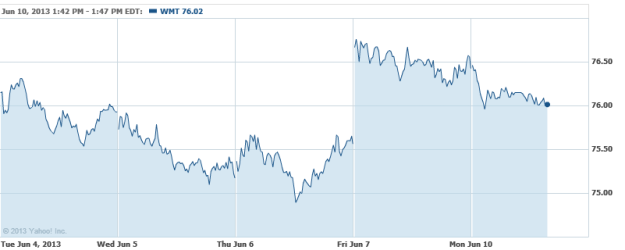 Cisco Systems (NASDAQ:CSCO): Current price $24.38
This week, Monday through Wednesday at the Cable Show in Washington, D.C. Cisco is highlighting advancements in its Videoscape Unity IP video platform. Attendees will view how the company is engineering openness and modularity into Videoscape Unity, by extending Cisco Open Networking Environment to video, the manner in which Videoscape Unity is embracing open software, and how Cisco is joining third-party vendors with Videoscape Unity to feature transformational and 'monetizable' video experiences for cable operators. Beyond that, Cisco will also show how it is delivering scalable, deployable cloud DVR solutions.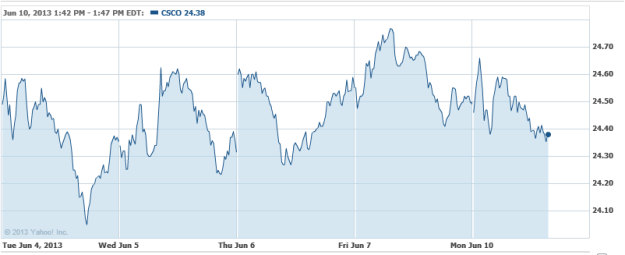 Don't Miss: Is Your Apple Device Vulnerable to This Hacker Attack?