IBM Said to Accuse Twitter of Patent Infringement and 2 Other Dow Movers to Watch
International Business Machines Corp. (NYSE:IBM): Current price $180.14
In its updated initial public offering filing on Monday, Twitter reported that it has been accused by IBM Corp. of infringing on its United States patents. Twitter indicated that it "recently received a letter from International Business Machines Corporation, or IBM, alleging that we infringe on at least three U.S. patents held by IBM, and inviting us to negotiate a business resolution of the allegations."
The question includes patents connected with the "efficient retrieval of uniform resource locators," a "method for presenting advertising in an interactive service," and another for the "programmatic discovery of contacts." Twitter's response, based on its own review of the patents, is that "we believe we have meritorious defenses to IBM's allegations," but the company also added in the "risk factors" section of its IPO filing that, "There can be no assurance that we will be successful in defending against these allegations or reaching a business resolution that is satisfactory to us."

Johnson & Johnson (NYSE:JNJ): Current price $92.56
Johnson & Johnson and its subsidiaries will pay in excess of $2.2 billion to settle criminal and civil allegations of its promotion of three prescription drugs for off-label uses that were not approved by the FDA, according to the Justice Department on Monday. The claims include paying kickbacks to physicians and pharmacies if they would recommend and prescribe Risperdal and Invega, both antipsychotic drugs, and Natrecor, for heart failure. The amount includes $1.72 billion in civil settlements with federal and state governments, along with $485 million in criminal fines and forfeited profits.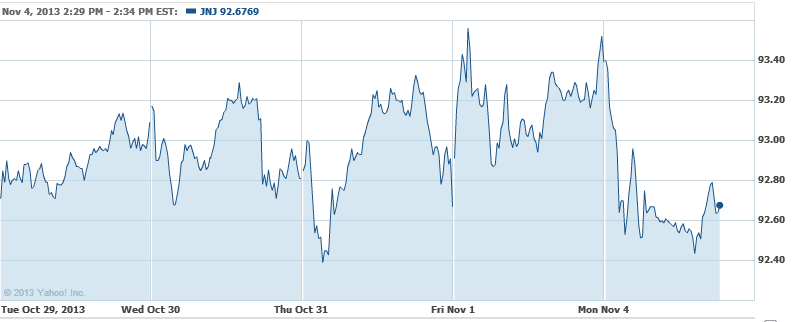 The Travelers Cos. Inc. (NYSE:TRV): Current price $86.61
Travelers now officially owns The Dominion of Canada General Insurance as it reported that it has closed its purchase, which was first announced in June. The headquarters of the buyer's new division will stay in Toronto, where it will be renamed Travelers Canada. The price tag for Dominion came to roughly $1.1 billion in cash.
Don't Miss: Tech Commentator Describes 'Apple Hell' of Software Upgrades.