IBM to Be Investigated By China After Snowden Revelations and 2 Other Dow Movers to Watch
International Business Machines Corp. (NYSE:IBM): Current price $185.99
Shanghai Securities News said on Friday that China's Ministry of Public Security and a cabinet-level research center are getting ready to investigate IBM Corp., Oracle Corp., and EMC Corp. regarding security questions. This report is subsequent to revelations by the former United States spy agency contractor Edward Snowden pertaining to widespread surveillance, including PRISM, by the National Security Agency and his claim that the agency hacked into critical network infrastructure at universities in China and Hong Kong.
Documents leaked by Snowden revealed that the NSA has accessed large amounts of Internet data like emails, chat rooms, and video from large firms such as Facebook and Google under the government program.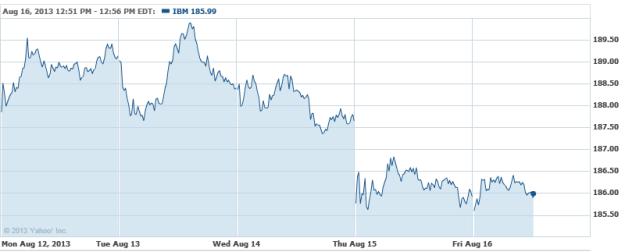 Alcoa Inc. (NYSE:AA): Current price $8.05
Bank of America Merrill Lynch has downgraded Alcoa shares from Neutral to Underperform because of lower aluminum price projections. The firm also reduced its 2014 earnings per share estimate to 20 cents, well below the consensus of 51 cents. The price target on Alcoa is $8.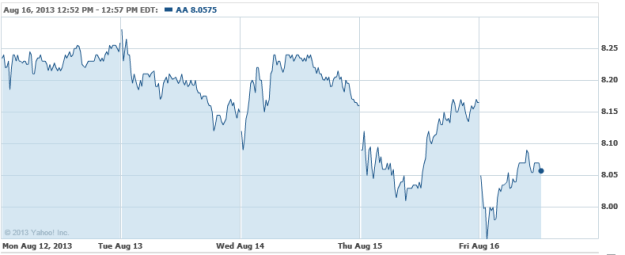 The Boeing Co. (NYSE:BA): Current price $103.34
All Nippon Airways Co. has identified yet another problem on Boeing's 787 Dreamliner. On Wednesday, a flight from Tokyo to Frankfurt was detained because of faulty wiring in a fire suppression system for one of the plane's engines. Reports said that the system may activate a fire extinguisher on the wrong engine if a fire breaks out on one of the two engines on the 787.
Boeing is requesting that airlines check their own 787 using an instruction sheet that it will supply. A company spokesman told Bloomberg News that the inspections will require only a few minutes and that the problem "doesn't present an immediate flight-safety problem" as there are "multiple redundancies with the fire extinguishing system."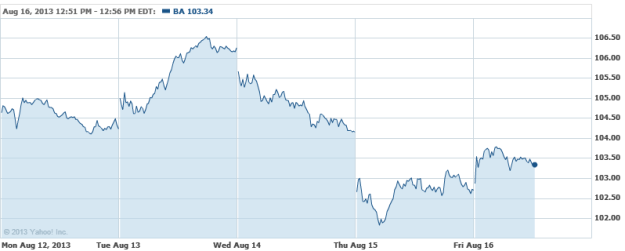 Don't Miss: Snowden's Leak Made China Worry About Oracle and IBM.