IBM's Loss Could Have Been Far Worse and 4 Other Hot Stocks
IBM (NYSE:IBM): IBM's missed earnings per share could have been as high as $0.34, rather than the $0.05 it recorded due to a favorable change in taxes for the company, according to BMO's Keith Bachman. Analysts are doubtful that IBM's miss was attributed to the company's execution, as other competing firms such as Oracle (NASDAQ:ORCL) have also posted weaker than expected results, signaling an industry-wide shortfall.

SAP (NYSE:SAP): Stock of SAP is running low this morning, following a miss on revenue but in-line earnings for the first quarter. Software growth of 5 percent is a decline from Q4′s 9 percent and support revenue, beloved for its high margins, grew 8 percent — down from 12 percent the quarter prior. Hana sales tripled to 86 million euros, and cloud subscription/support sales grew to 167 million euros from 35 million a year ago.

Anheuser-Busch InBev (NYSE:BUD): AB InBev has come to an agreement with the Department of Justice, over its acquisition of Grupo Modelo, sources said. The DoJ filed a lawsuit back in January, alleging that the purchase would hurt competition in the U.S. and could ultimately lead to raising prices. The deal would have Modelo sell its stakes in its brands that it sells in the U.S. to AB, as well as a brewery it built in Piedras Negras, Mexico to Constellation Brands (NYSE:STZ). Constellation plans to invest $400 million in the brewery, where the popular Corona beer is made.

Verifone (NYSE:PAY): Compass Point has issued a downgrade on Verifone's stock, from Buy to Neutral. The firm had upgraded the shares back in February following weak earnings reports, when the stock was down by nearly 50 percent and the company said it could fix the issues. Growing frustrations with consistently low closing prices have led the firm to downgrade the company, citing the need "to be conservatively postured heading into earnings." The firm also cut the price target from $25 to $20.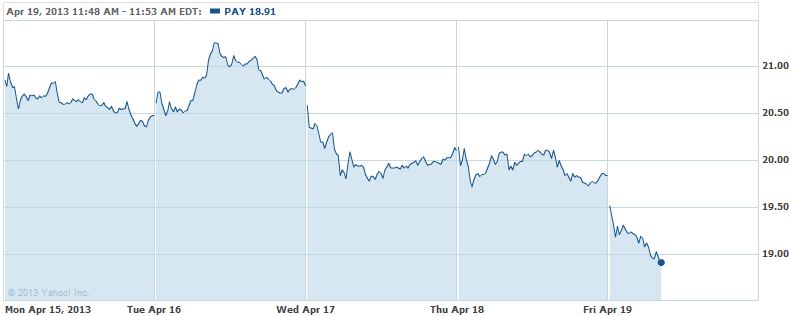 Don't Miss: Apple's iPad Owners Can't Get Enough.