Icahn Enlists Jefferies For Dell Bid, Merck Wins Indian Injunction Case, and 3 More Hot Stocks
Dell Inc. (NASDAQ:DELL): Jefferies has announced that it will be helping to finance Carl Icahn's $5.2 billion covenant-lite loan package for Icahn's $14 per share offer for the company. A $2.2 billion, six-year term loan B-1 is guided at LIB+400 with a 1 percent Libor floor,  and a $3 billion, 3.5-year term loan B-2 is guided at LIB+350 with a 0.75 percent Libor floor. Icahn's proposed tender offer will be financed with $7.5 billion of cash on the balance sheet, the $5.2 billion credit facility, and $2.9 billion from the sale of receivables, according to sources.

Merck & Co. Inc. (NYSE:MRK): Merk & Co.'s MSD unit has won an injunction against India's Aprica Pharmaceuticals, which will prevent Aprica from launching generic versions of the U.S. company's Januvia and Janumet Type 2 diabetes treatments. Wins in India have been few and far between for international drug companies, as most decisions tend to favor the generic manufacturer.

Vivus Pharmaceuticals (NASDAQ:VVUS): In response to a shareholder letter from First Manhattan that told shareholders that they should vote to replace the company's directors with First Manhattan's nine nominees, Vivus called the the claim that short sellers are betting against management "outlandish" and says that if the hedge fund can "in fact read the minds of the short sellers, it should disclose it to VVUS' stockholders."

Google (NASDAQ:GOOG): EU Advocate General Niilo Jaaskinen says that the search engine giant is not obliged to delete sensitive information from its search index, although the company is subject to EU privacy law. "Requesting search engine service providers to suppress legitimate and legal information that has entered the public domain would entail an interference with the freedom of expression," Jaaskinen said in his opinion, which added that while internet firms operating in the European Union must adhere to national data protection legislation, that did not oblige them to remove personal content produced by others.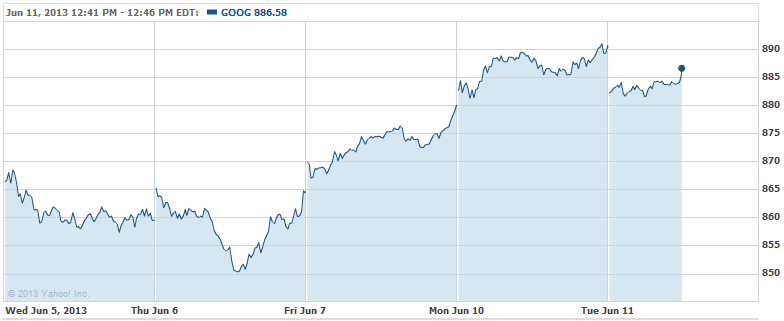 MagicJack VocalTec Communications (NASDAQ:CALL): MagicJack has launched a new version of its magicJack Plus VoIP adapter, which the company says will offer superior voice quality and more processing power and memory. Users can have the service for free for six months, and for a monthly cost of $30 following the trial period. The jack costs $50, unchanged from the current generation.

Don't Miss: 6 Facts To Prove Americans' Lack of Financial Planning.