Icahn Gives Up on Dell, Verizon Sues the FCC: Market Recap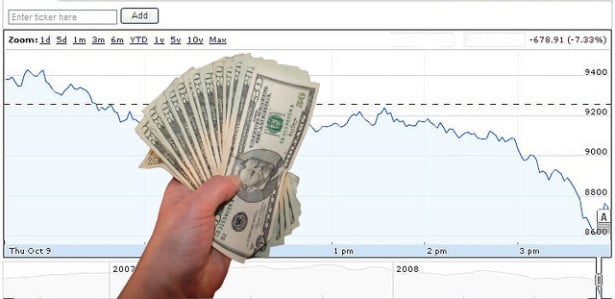 U.S. stocks rose Monday on strong economic data from China, which showed that exports climbed 7.2 percent year-over-year for August. Analysts only expected exports from the country to grow around 5.5 percent. The market was also relieved that no decision has yet been reached on whether the U.S. military will intervene in Syria.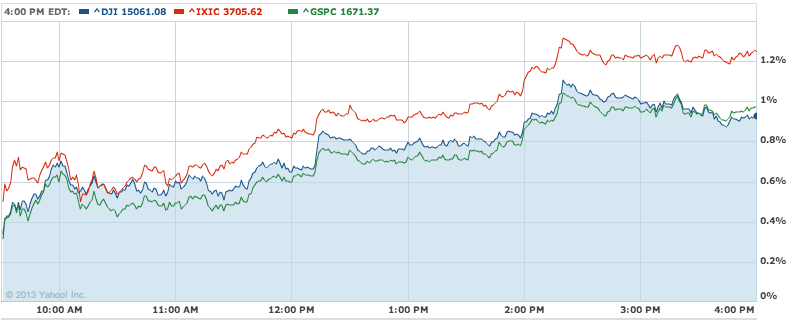 Gold: -0.01% to $1,386.30 per ounce; Oil: -1.42% to $108.96 per barrel; U.S. 10-Year: -1.40 to 2.897%.
Are These Political Factors Disturbing the Market? U.S. markets might have a rough week ahead, considering the uncertainty surrounding a Senate vote on a military strike in Syria and the Federal Reserve's upcoming policy meeting, September 17-18, during which the central bank's policy-setting committee is expected to announce the easing of its $85 billion per month bond-buying program… (Read more.)
Is It Time to Push Fannie and Freddie Out of Home Loans? At the beginning of August, President Barack Obama took the stage at Desert Vista High School in Phoenix and outlined the third cornerstone of his Better Bargain for the Middle Class. Addressing an audience that lived at the epicenter of the housing crisis – median home prices fell 53 percent during the period and two-thirds of all residential mortgages in the region sank — the president said home ownership was at the heart of the middle class… (Read more.)
Here's a Look at the Rise of Alternative Investments: The centerpiece of the widely adopted Modern Portfolio Theory is that having a diversity of investments can lead to greater returns without increased risk. But during the financial upheaval of 2008 and 2009, many investors learned the hard way that their assets were too highly correlated. The result: once bitten, twice shy investors have record cash sitting on the sidelines… (Read more.)
Here's your cheat sheet to today's top stocks stories.
Dell (NASDAQ:DELL) founder Michael Dell has won out against Carl Icahn at last in taking the PC-maker private. On Monday, Icahn authored an open letter to shareholders in which he announced that he and partner Southeastern Asset Management "determined that it would be almost impossible to win the battle on September 12," the date of the much-delayed shareholder vote… (Read more.)
Verizon Communications's (NYSE:VZ) suit against the Federal Communications Commission will be heard in court Monday as Verizon challenges the FCC's "net neutrality" rules that are aimed at making sure Internet providers give equal treatment to all Internet traffic… (Read more.)
Google (NASDAQ:GOOG) has offered to make even more concessions to the European Commission to dodge an antitrust fine related to its search engine business that could top $5 billion, a report from the antitrust regulator seen by Reuters said on Monday… (Read more.)
AT&T's (NYSE:T) move to contribute up to $9.5 billion in preferred equity to its pension plan, thus freeing up cash and lowering its tax bill, was given a tentative go-ahead by the U.S. Department of Labor on Friday, The Wall Street Journal reports… (Read more.)
Tesla Motors (NASDAQ:TSLA) trades at approximately 265 times its earnings. By comparison, Ford (NYSE:F) trades at 11 times its earnings; GM (NYSE:GM), 10 times earnings. Those numbers are there for all to see, but one blog post from an NYU professor has succeeded where many others have failed — he's put doubt into the minds of Tesla investors, and it's because he's been right about overvalued stocks in the past… (Read more.)
Smithfield Foods's (NYSE:SFD) $4.7 billion takeover by Shuanghui International, the largest Chinese acquisition of an American company, has received approval from the U.S. Committee on Foreign Investment, the companies said in a press release Friday. Now, the companies face a shareholder vote, which is scheduled for September 24… (Read more.)
Follow Jacqueline on Twitter @Jacqui_WSCS
Don't Miss: Carl Icahn Is No Longer in Michael Dell's Way.