Icahn Officially Bails on Opposition to Dell Acquisition and 2 More Heavily Traded Stocks to Follow
Dell Inc. (NASDAQ:DELL): Current price $13.83
Don't look now, but the battle seems to be over. Activist investor Carl Icahn, who in September sort of ended his months-long opposition to Michael Dell's planned buyout of Dell, on Friday sounded his final withdrawal from the personal computer maker. Icahn tweeted that he will no longer seek appraisal rights for his shares, a legal process through which investors may try to convince a Delaware court to decide the fair value of the stock, announcing: "I withdrew my demand for appraisal of my Dell shares. Based on our returns on capital, we believe we have better uses for $2 billion."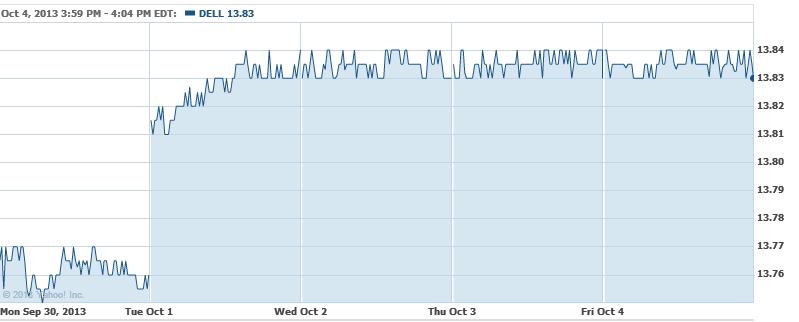 Applied Materials Inc. (NASDAQ:AMAT): Current price $17.59
Judging from Friday's share performance, it seems as if traders are betting that a protracted antitrust review will not block Applied Materials from its $9.39 billion deal to help increase its market share. Last week, the company agreed to an all-stock buyout of Tokyo Electron Ltd., moving the combined market share up to at least 25 percent. Tokyo Electron has slipped for five consecutive days on traders' fears regarding regulatory approval and the length of time necessary to close the deal, but the stocks remain up at least 6 percent since the merger was announced, according to data compiled by Bloomberg.

Himax Technologies Inc. (NASDAQ:HIMX): Current price $10.93
Himax shares are up by about 1.5 percent on Friday after Jim Cramer remarked during Lightning Round: "I think it's still a buy. I know it's up a lot already but I think it should be $13 or even $14." The stock stands at $10.95 near the close on Friday.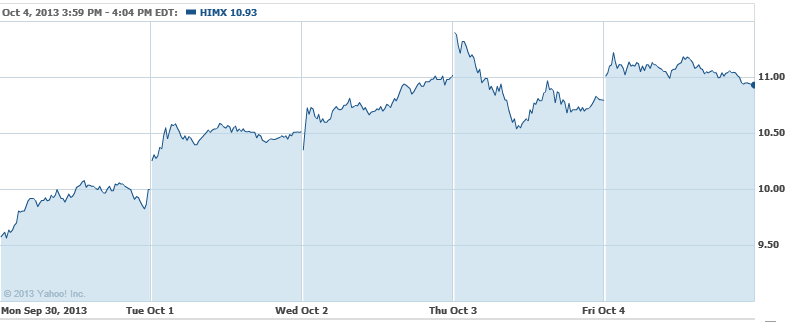 Don't Miss: Can Ballmer and Gates Survive Re-Election?