Icahn Trims Netflix Position, Six Flags Misses the Mark, and 3 More Hot Stocks
Netflix Inc. (NASDAQ:NFLX): Netflix shares are trading up slightly, even as Carl Icahn announces that he has reduced his stake in the movie streaming company to 4.52 percent, a  50 percent or so cut in his position. "I have learned that when you are lucky and/or smart enough to have made a total return of 457 [percent] in only 14 months it is time to take some of the chips off the table," Icahn said. However, the House of Icahn still sees Netflix as being reasonably priced, with considerable room for growth.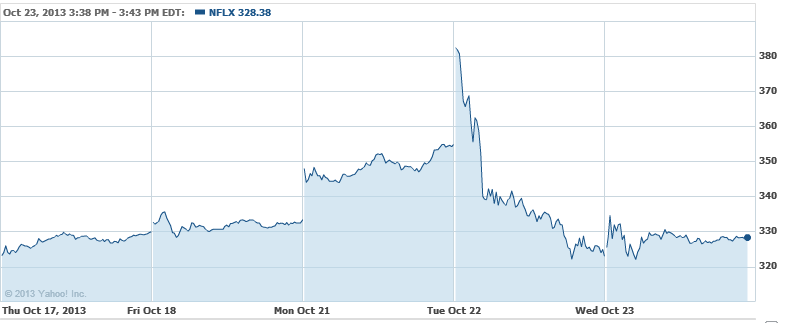 Six Flags Entertainment Corp. (NYSE:SIX): Six Flags has reported EPS of $1.22, missing by a somewhat significant 47 cents, as revenue didn't fare much better – $505 million missed the mark by $6.32 million. However, it was still the fourteenth consecutive record-setting quarter for the company, and is "the best quarter in our company's history on a comparable park basis." Total guest spending per capita grew $0.71, or 2 percent in the third quarter to $41.27; admissions revenue per capita rose $0.45, or 2 percent, to $23.96.

IMAX Corporation (NASDAQ:IMAX): IMAX has announced an plan in conjunction with Carmike Cinemas (NASDAQ:CKEC), which will see a revenue split at 10 new IMAX theaters that will be built at existing Carmike multiplexes. Inclusive of Wednesday's agreement, Carmike will oversee 18 IMAX locations; exact financial data was not offered.
Brinker International (NYSE:EAT): Brinker's reported EPS of 43 cents missed the mark by 2 cents, as revenues of $683.92 million also missed, by $1.93 million. A 1.4 percent drop in comparable-restaurant sales during the first quarter resulted as both Chili's and Maggiano's saw declines in traffic, though international comparable-restaurant sales rose 2.7 percent. However, the costs of sales were down overall, as certain commodity costs were favorable and new kitchen equipment boosted productivity.

Papa John's International (NASDAQ:PZZA): An upgrade to Buy from Neutral from Janney Montgomery Scott has sent Papa John's shares up on Wednesday, as the firm slaps the stock with an $85 price target, up from $68.

Don't Miss: Jobs Report Fails to Catch Falling Dollar.