Colorado's Conundrum: Legal Pot and Free Money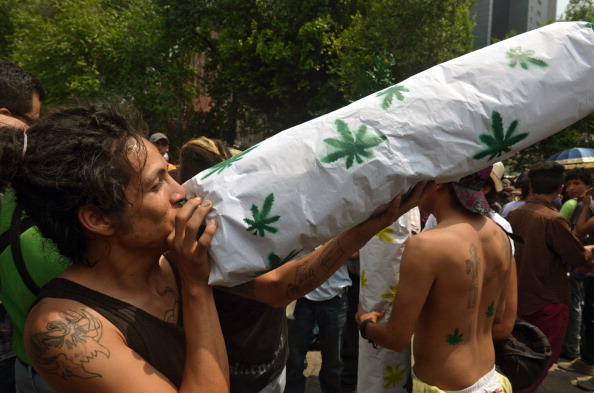 Residents of Colorado are almost literally rolling in the green. After more than a year of legal marijuana sales, the state has collected so much in tax revenue that its taxpayers may actually be getting a cut of the action themselves.
According to a report from the Associated Press, a provision in Colorado's state constitution actually limits the amount of tax revenue that the state itself can bring in before it has to redistribute it to taxpayers. That means that instead of having all of the $50 million or so that Colorado collected over the course of 2014 going toward education and construction projects, like many expected, the state might need to send out checks to taxpayers. The AP reports that this has only happened six times in the state's history, with disbursements equaling $3.3 billion.
Even for those who were on the fence about marijuana legalization, it's hard to be upset potentially getting free money, right?
For most people, this is probably fantastic news. For others, including the state's lawmakers, it's more of an annoyance. State lawmakers are hesitant to return the money to their constituents, the AP says, and it may result in another ballot measure to determine whether marijuana can be exempted from the state's tax revenue limitation requirement. The reason lawmakers don't want to redistribute the funds? Basically, they feel that the proceeds from the marijuana market should go toward offsetting the costs imposed by the marijuana market, or at least to the budgets that voters agreed upon when they cast their ballots in favor of legalization in 2012.
In all, if funds are redistributed, it would only amount to about $7.63 per adult, so it's not exactly a windfall for the taxpayers. That's around $30.5 million. Even though Colorado state officials were off on their initial estimates as to how much revenue the state would bring in during the first year, the redistribution of tax revenues does seem to indicate that the legalization experiment in Colorado has been a success.
What's important to keep in mind is that the overabundance of tax revenue from legal marijuana sales is a problem that will only affect those in Colorado, as it has to do with a provision in that particular state's constitution, not on a nationwide scale. That doesn't mean that other states may not face similar issues in the future, but residents of Washington, Oregon, and Alaska shouldn't get their hopes up.
Again, this tax situation brewing in Colorado does showcase that legalization is paying off economically for the state's residents. The actual numbers from last year haven't been officially released by the state's Department of Revenue yet, but we do know that tens of millions of dollars have been raised in tax revenues, all of which would have remained in the black market had voters opted not to legalize in 2012. For Colorado residents, it has to feel pretty neat knowing that they could be receiving a check from the state government, whether they participated in the new market or not.
Clearly, marijuana legalization has been a boon for the taxpayers of Colorado. But even though the potential for tax redisbursement is unique to that state, it's hard to argue that the industry itself is not only proving to be a success, even if growth has been hindered by short supply and regulations.
A report from Arcview Market Research says that across the country, profits from legal marijuana sales reached $2.7 billion in 2014, representing a 74% increase over 2013, in which sales topped $1.5 billion. Not only that, but marijuana is also one of the fastest-growing industries in the country, by Arcview's calculations, and that can mean a healthy new supply of jobs and business opportunities for states that have yet to legalize. For those states, selling the idea to voters and legislators is still the big barrier.
Of course, if there's any way to get people on board with something, it's by handing out free money. While that may not actually end up happening in Colorado, the fact that the state has made enough from pot sales for that to seriously become a problem is astounding. But it also goes to prove that legalization has been a success and that there is everything to gain, and very little to lose, by opting for it.
Follow Sam on Twitter @Sliceofginger
More from Business Cheat Sheet:
Want more great content like this? Sign up here to receive the best of Cheat Sheet delivered daily. No spam; just tailored content straight to your inbox.