If You Live With Your Parents, You Might Be a Millennial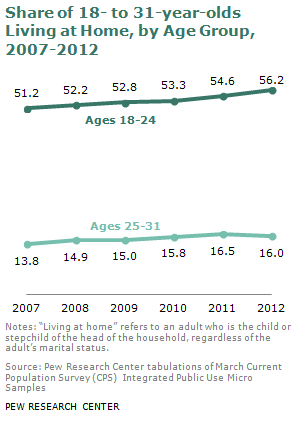 If you live in your parents' basement — or on their couch, in their guest house, or in a room over their garage — you might be a millennial. According to a Pew Research analysis of U.S. Census Bureau data, a rising number of young adults  – a record 21.6 million, or 36 percent, of 18- to 31-year-olds, the so-called Millennial generation — were living at home in 2012. That figure is the highest share in at least four decades, and represents a slow, but steady increase from the 32 percent share of young adults who were living at home before the Great Recession began in 2007 and the 34 percent who did when it officially ended in 2009.
A lot is hidden within that large figure of 21.6 million, details that reveal much about the generation, including how educated they are, when they are marrying and beginning families, and the demographic traits that correlate with living at home. For example, young men are much more likely to live at home even though they are now less likely to be in college than young women are.
The steady rise in the share of Millennials who live in their parents' home appears to be driven by a combination of economic, educational, and cultural factors that include:
(1) Declining Employment — Last year, 63 percent of 18- to 31-year-olds held jobs, a significant decrease from the 70 percent of their same-aged counterparts who had jobs in 2007. More telling is the fact that in 2012, unemployed Millennials were much more likely than employed Millennials to be living with their parents, with 45 percent of unemployed Millennials living at home compared to just 29 percent of employed Millennials.
Of course, a young adult's ability to move out of their parent's home depends a great deal on employment prospects and labor market opportunities. The labor market has worsened considerably for young adults since 2007, and because having a job is strongly associated with living independently of one's parents, the number of unemployed adults living at home has soared correspondingly.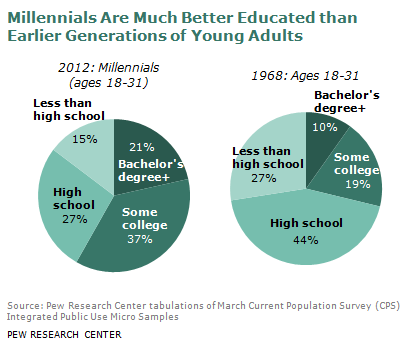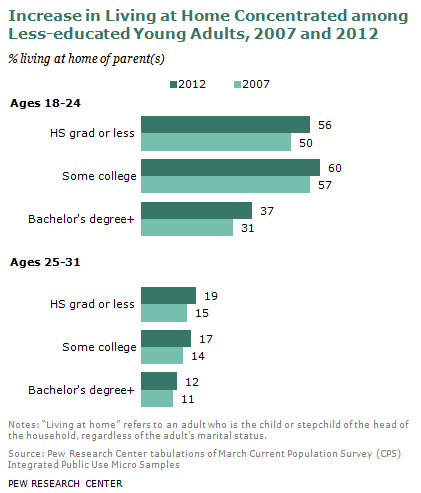 (2) Rising College Enrollment — When considering just the younger members of the Millennial generation, those 18- to 24-years-old, many more attended college in 2012 than in 2007, a fact that contributed to the changing housing trend. In March 2012, 39 percent of 18- to 24-year olds were enrolled in college. By comparison, only 35 percent of young adults were enrolled in college in 2007. Among young Millennials, those enrolled in college were more likely to live with parents than those not in college, where 66 percent of young Millennials in college lived at home compared to 50 percent not in college.
As Pew noted, greater college enrollment expands the number of young adults living at home in two ways: some college students live in college dormitories (and are counted as living at home, according to the Current Population survey) and some live at home to pursue their college education.
Furthermore, there is some evidence that the increase in living at home has been concentrated among the less-educated young adults. According to the analysis, among 25- to 31-year olds with no education beyond high school, 19 percent lived at home in 2012, while in 2007, 15 percent of these lesser educated young adults lived at home. In contrast, there is evidence that among 25- to 31-year olds with a college education, there has been no statistically significant increase in living at home since 2007.
(3) Declining Marriages — The number of 18- to 31-year-olds who have decided to marry are significantly fewer than their same-age counterparts in 2007 and far fewer than the number of  18- to 31-year-olds who were married in 1968. Because fewer Millennials are moving out to begin families of their own, correspondingly more Millennials are living with their parents. According to Pew's calculation 47 percent, of 2012's unmarried Millennials lived at home, while just 3 percent of their married peers live at home.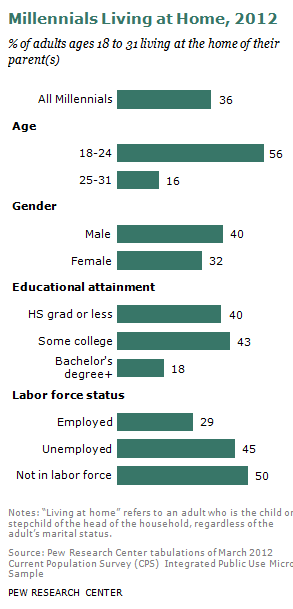 (4) Other Demographic Trends — The three previous compositional changes do not explain all the increase in the incidence of Millennials living at home since 2007. According to the Pew analysis, data shows that within each of these growing demographic sub-groups — the unemployed, college students, and the unmarried — a greater number of young adults were living with their parents in 2012 than in 2007. When the lens was widened, the analysis found that the share of young adults living in their parents' home was relatively constant from 1968 – the earliest available data — to 2007. But other household arrangements of young adults changed dramatically in the same period; the percentage of young adults who were married and living with a spouse fell from 56 percent in 1968 to 27 percent in 2007, while the share of those who were living with a roommate, child or a partner increased from 5.5 percent to 26 percent.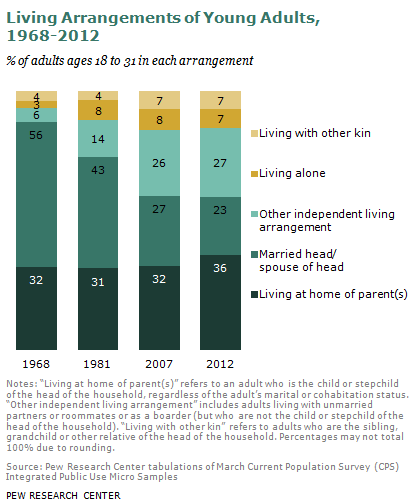 Additionally, 40 percent of Millennial males lived at home, while just 2 percent of  Millennial females lived with their parents.
Don't Miss: Citigroup Is Slammed With $590 Million Ghost from the Financial Crisis.
Follow Meghan on Twitter @MFoley_WSCS