IMF's Lagarde: Budget Cuts Are Slowing Down America
Christine Lagarde, the head of the International Monetary Fund, said on Tuesday that the U.S. would be growing faster and performing better were it not for the "self-inflicted" wound of fiscal restraint.
She felt the near-term focus on cutting should be traded for longer-term focus in order to deal with the ever-looming problems of Medicare and Social Security.
"The next couple of years are going to be quite positive looking. But if nothing is done about the medium and long-term horizon … then the picture is a lot bleaker," she said.
Lagarde was appointed to head the IMF in June 2011, and has been considered generally pragmatic on the issue of austerity. Speaking last month in New York, she said, "(Reforms) don't have to be brutal or abrupt or massively front-loaded. Those under financial pressure have to demonstrate the ability to do so but be mindful of the fabric of society." She has warned against mass budget cuts across Europe, fearing a larger recessionary effect.
Lagarde was also active in French government before taking over the IMF, helping to loosen up the stringent French labor market by removing taxes on overtime from the socialist-imposed 35-hour work week. Labor markets have continued to hold back growth in France, where the European Commission has been urging the country to soften its markets further in order to become competitive.
The current economic picture in the U.S. is mixed, though. Economic confidence is up in May to its highest point since 2009, with specific gains being made among high-income households. Overall confidence is at -3 on the tracker of economic confidence. Democrats have stayed steady in their outlook, with the President's party at -17 on the chart. Upper-income Americans entered positive territory, with a score of 5. The overall index has not entered positive territory since Gallup tracking began in 2008.
However, manufacturing slowed down in May below analyst's expectations, with the Institute for Supply Management's factory index falling to 49, 2 points below the predicted 51. Numbers above 50 represent growth, while those below are indicative of contraction. Guy LeBas, chief fixed-income strategist at Janney Montgomery Scott LLC, was the only analyst in the survey to predict the lower figure, noting that growth will be slower through the second quarter of this year.
"Manufacturing is really stymied by slow corporate spending and government spending cutbacks," according to LeBas.
Manufacturing is expected to pick up later this year, though, with the auto industry experiencing increased demand, and residential construction picking up as property values are on the rise. These variables could spark growth in the second half of 2013, despite the sequestration from Washington, which has sparked deep cuts throughout the federal budget. The temporary setback is not unique to the U.S., as many countries including China were shown by other reports to be experiencing sluggish manufacturing activity.
Still, Lagarde says, "The U.S. is not doing as well as it could be, because of self-inflicted fiscal wounds. This year alone, fiscal adjustment will constitute an enormous 2.5 percent of GDP," later adding, "This is the major challenge facing the U.S. economy today, and it must be met."
Here's how the market traded on Wednesday: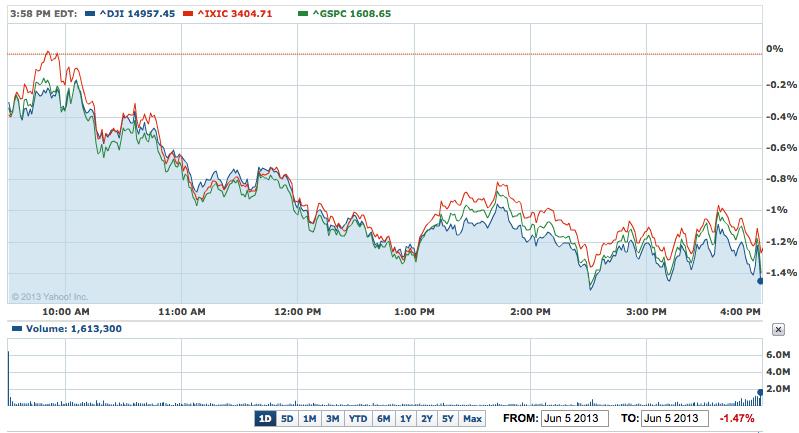 Don't Miss: Rising Interest Rates Deliver a Blow to the Housing Market.