Increased Construction Spending Continues to Fuel Job Growth
Construction activity in the United States continued to gain steam in August, according to the U.S. Census Bureau. The seasonally adjusted value of construction put in place increased 0.6 percent on the month and 7.1 percent on the year to an annual rate of $915 billion, beating expectations for a more modest increase of 0.4 percent on the month. Data from July were upwardly revised from an increase of 0.6 percent to 1.4 percent.
Construction spending data generally have little direct impact on financial markets, but they do factor in to gross domestic product calculations. Although the total level of construction investment is still well below its pre-crisis levels, it is still a significant portion of GDP, and as construction activity increases, so does employment within the sector.
Both the belated employment situation report and the ADP payroll report for September showed increased employment in the construction center. Construction payrolls increased by as much as 5,000 for the month, suggesting that income construction spending data for September could continue the uptrend.
New construction spending in August, as in July, was led by large outlays for private residential buildings. An enormous amount of stimulus spending by the U.S. Federal Reserve combined with near-zero benchmark interest rates has helped stimulate the housing market and, in turn, construction spending. Demand for homes has been on the rise in part thanks to low mortgage rates.
Private residential outlays increased 1.2 percent on the month and 18.7 percent on the year to $340.2 million. Total private construction spending increased 0.7 percent on the month and 11.5 percent on the year.
Total public construction spending increased 0.4 percent on the month but is down 1.8 percent on the year. Government spending on construction has been subdued in the wake of the financial crisis and subsequent fiscal reform in Washington. When the government spends less, it builds less. This has been a headwind for the industry for the past several years, but private spending has been able to more than compensate.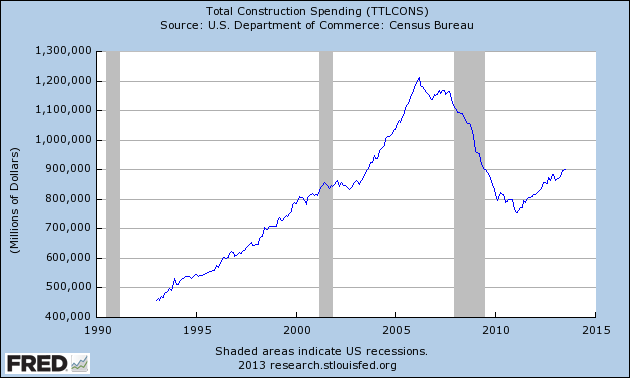 Don't Miss: Shareholders Buckle In as JPMorgan Faces Record Penalty.