India Cracks Down on GM, Wal-Mart Saves Some Face, and 3 More Hot Stocks
General Motors Co. (NYSE:GM): India's Ministry of Road Transport and Highways said that a special panel will track the recall of the 114,000 Chevrolet Tavera SUVs to ensure that the emission testing is being initiated properly; General Motors halted the production of the model last summer after accusations surfaced that employees of GM India had fabricated the emissions results for the vehicle.

Wal-Mart Stores Inc. (NYSE:WMT): Wal-Mart will be paying out refunds and a $10 e-gift card to customers who fell victim to technical glitches on Wal-Mart's website on Wednesday, as goods were listed for sale far below their actual retail cost. However, aside from a being small blemish on Wal-Mart's online efforts, Seeking Alpha reports that "retail analysts think the mishap could end as more than an embarrassing tech glitch, with extra traffic flowing to the Wal-Mart website where recent comparison trackers have found the pricing competitive."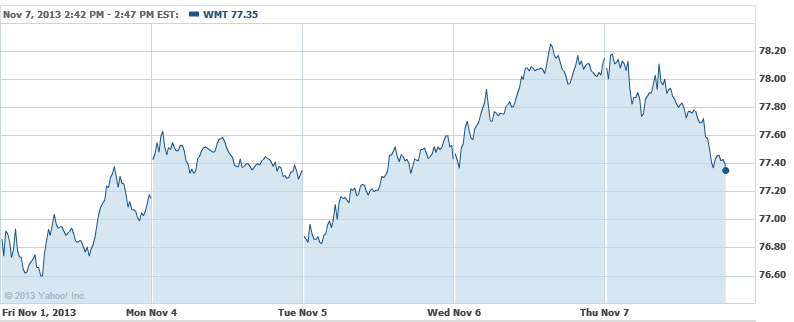 Royal Dutch Shell (NYSE:RDSA): After Shell halted this year's offshore Alaska drilling programs following a series of mishaps and setbacks last year, the company has now submitted "a stripped-down exploration plan" to the appropriate U.S. authorities, as it hopes to keep its options open to drill in the summer of next year. The new plan calls for multiple wells in the Chukchi Sea, taking some focus off of former plans for wells in Shell's neighboring Beaufort Sea properties.

Exxon Mobil Corp. (NYSE:XOM): Exxon Mobil is looking at fines of up to $2.7 million as a result of the pipeline spill that dumped of thousands of barrels' worth of Canadian crude oil in an Arkansas suburb this past spring. The Pipeline and Hazardous Materials Safety Administration turned up nine probable violations of safety rules that potentially caused the rupture in the almost 70-year-old Pegasus pipeline, which in turn forced residents to evacuate their homes.

Six Flags Entertainment Corp. (NYSE:SIX): Six Flags has declared a 47 cents per share quarterly dividend, a 4.4 percent increase over its prior dividend offering of 45 cents. It has a forward yield of 5.09 percent and is payable on December 9 for shareholders of record on November 25. It has an ex-dividend date of November 21.

Don't Miss: 10 Most Popular Cars in America's Most Affluent Areas.