Indian Inquiry into Wal-Mart Lobbying Misdeeds Ends and 2 Other Dow Movers to Watch
Wal-Mart Stores Inc. (NYSE:WMT): Current price $73.29
Government document obtained by Bloomberg indicate that an inquiry into claims that Wal-Mart lobbied Indian government officials has concluded without conclusions. The probe by the retired judge Mukul Mudgal could not render a decision on the matter because it had not the authority to extract information from the giant retailer, said the document. Two unnamed government officials say that India's cabinet could approve the report later Thursday.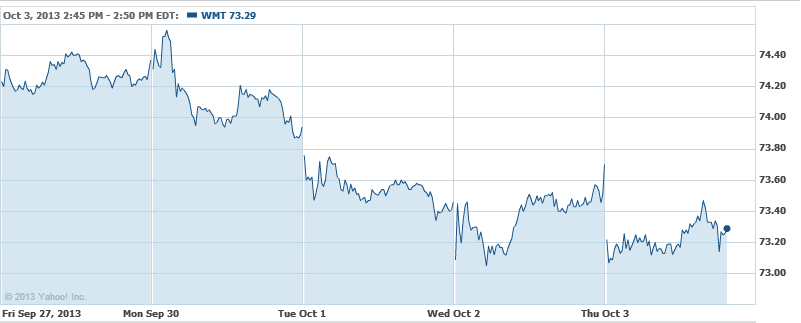 United Technologies Corp. (NYSE:UTX): Current price $103.95
United Technologies has indicated that it may furlough over 5,000 workers if the government shutdown lingers into November. The firm said on Wednesday that its Sikorsky unit, which builds Black Hawk helicopters, would be the first to be impacted and it expects that close to 2,000 employees, including those who work at facilities in Connecticut, Florida, and Alabama will be furloughed on Monday. The manufacturer said it would halt some defense manufacturing since government inspectors themselves have been furloughed, leaving it without the required federal approvals to manufacture military products.

The Travelers Cos., Inc. (NYSE:TRV): Current price $84.11
The Travelers Cos. has been recognized by The Dow Jones Sustainability Indices as one of only six insurance firms on its 140-company North America Index. This marks the seventh straight year that the insurer has been included in the DJSI. Debuted in 1999, the DJSI were the first world indices to track the financial performance of the top sustainability-driven companies on a global basis. The DJSI are maintained jointly by the S&P Dow Jones Indices and RobecoSAM.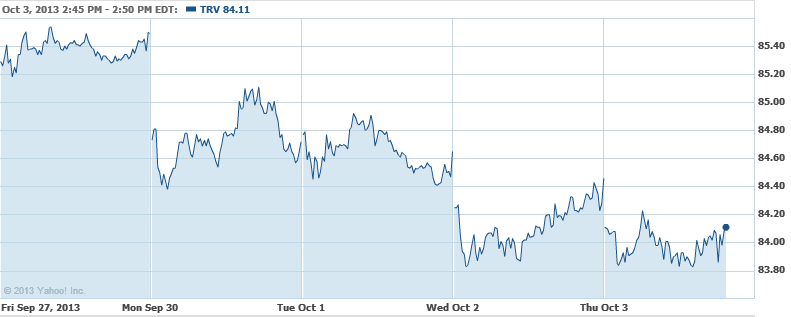 Don't Miss: Will Potbelly Join the Pantheon of Great American Restaurant Chains?