India's Stopping Wal-Mart, Investors Fret About Syria: Market Recap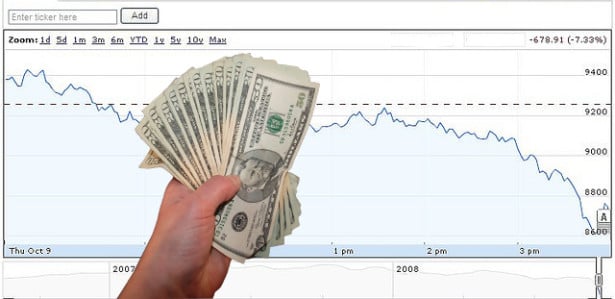 U.S. stocks fell today, as Senator John Kerry promised that the U.S. would hold Syria responsible for the use of chemical weapons, making investors fear the effect politic turmoil could have on U.S. assets. Data released from the Commerce Department showed that orders for durable goods fell 7.3 percent, the most in a year, a sign that economic recovery is moving slowly.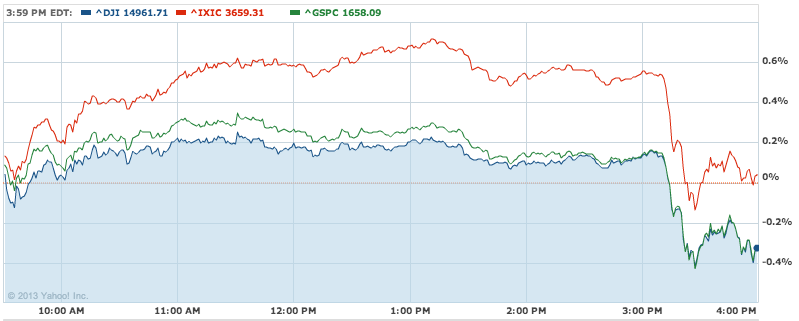 Gold: +0.44 to $1,402.00 per ounce Oil: +0.04% to $105.00 per barrel U.S. 10-Year: -0.46 to 2.805%
Is Consumer Spending Still on the Rise?: Both the housing and labor markets improved last month, and consumer spending most likely rose in July for the third consecutive month. According to Bloomberg, economists have forecast that the consumer spending increased 0.3 percent in July… (Read more.)
Manufacturing Activity Eases in July on Soft Demand: Economic headwinds buffeted U.S. manufacturing into contraction in July. According to a report from the U.S. Department of Commerce, new orders for manufactured durable goods decreased 7.3 percent on the month to $226.6 billion. The decline was led by a tremendous 19.4 percent contraction in new orders for transportation equipment to $69.7 billion… (Read more.)
Will Slow and Steady Win the Economic Race for China?: China is on track to hit an annual economic growth rate of 7.5 percent in 2013, according to a spokesman for the nation's National Bureau of Statistics. Speaking at a Foreign Ministry conference Monday, spokesman Sheng Laiyun said: "The economy is showing some positive changes. Signs of growth stabilization are becoming more obvious…" (Read more.)
Here's your cheat sheet to today's top stocks stories: 
Wal-Mart Stores (NYSE:WMT) may have once thought that India was its key to continued global success, but it looks like the country has now stopped the Bentonville, Arkansas-based retail giant dead in its tracks. Thanks to strict international regulation and two leering compliance investigations, Wal-Mart's progress in the region has been all but halted… (Read more.)
Tesla (NASDAQ:TSLA) is a bona fide force on its home turf according to the latest figures and using every bit of the advantage it can get. The California New Car Dealers Association (CNCDA) took Polk data and posted their results for vehicle sales through June 2013 in the Golden State. One glance at the new vehicle registrations is enough to make the Detroit Three –not to mention the German Luxury Three — sit behind the wheel and look for check-engine warnings… (Read more.)
Anadarko Petroleum (NYSE:APC) announced it had sold a 10 percent interest in Mozambique for $2.64 billion in cash, and Wells Fargo thinks the price was slightly above Street expectations. The firm believes that the cash will enable the company to increase its production rate target in 2014 and possibly 2015 by a couple of percentage points, and it keeps an Outperform rating on the stock.
Qihoo 360 Technology Co Ltd (NYSE:QIHU) reported earnings today that beat analyst expectations and caused the stock to rally. The company reported adjusted earnings per share of 40 cents, beating analyst forecasts of 26 cents and growing 135 percent from a year ago. Revenue rose 108 percent to $151.7 million. The average revenue estimate was $144.9 million. The company currently dominates Internet security in China.
Amazon.com Inc.'s (NASDAQ:AMZN) cloud-computing center, Amazon Web Services, was down for a full hour on Sunday, taking a number of popular sites offline with it. At around 4 p.m. EST, problems with Amazon's U.S.-EAST data center experienced connectivity issues that led to outages of popular sites including Facebook's (NASDAQ:FB) Instagram and Twitter's Vine… (Read more.)
Follow Jacqueline on Twitter @Jacqui_WSCS
Don't Miss: Dallas Fed: Manufacturing Can Recover, It Just Hasn't Yet.