Industrial Production Gives Economy a Welcome Sign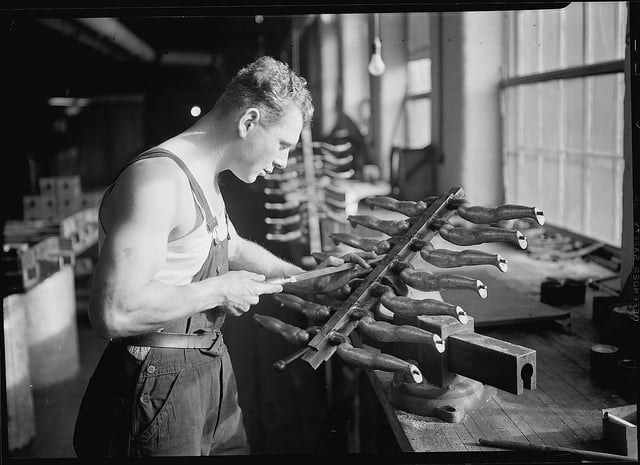 The economy — which appears to have slowed sharply in the second quarter — received a welcome sign Tuesday morning: Industrial production rose slightly more than expected in June. The Federal Reserve reported that output at factories, mines, and utilities rose 0.3 percent last month, the largest increase since February and a significant jump from the relatively flat reading recorded in May.
Manufacturing, which accounts for 75 percent of total output, contributed heavily to the results, increasing more than projected.
Markets may be still soft abroad, but leaner inventories and soaring automobiles sales have done much to offset the effects of March's federal budget cuts and January's tax increase. Any additional increases in demand or sustained production gains will help the U.S. economy expand in the future.
"Manufacturing has been kind of a slow grind," Regions Financial chief economist Richard Moody told Bloomberg. His firm expects activity to accelerate in the second half of the year, and, while the type of growth expected is not exceptionally strong, Moody said it will be better than the economic growth posted in the past two to three months.
Manufacturing accounts for approximately 12 percent of economic output. That sector recorded its best performance in four months, jumping 0.3 percent after a 0.2 percent rise in May. In particular, production of machinery, which includes computers and electronics, increased 1.5 percent last month following May's 0.7 percent drop.
The largest manufacturer of machinery used in the production of semiconductors and flat-screen displays, Applied Materials (NASDAQ:AMAT), predicted that industry spending will grow next year as chipmakers increase production to meet demand for mobile-device parts. Competition among smartphone providers is driving demand for more advanced parts and improvements in how they are manufactured.
As expected, the central bank's report revealed that motor vehicle production rose 1.3 percent in June. Automobile sales are rising as Americans replace older vehicles. Cars and light vehicles sold at a 15.89 million annual rate in June, the fastest pace since November 2007, according to data from Ward's Automotive Group. Low borrowing costs and increasing consumer wealth helped make these purchases possible and should continue to support spending in the near future.
But while retail sales advanced at a modest 0.4 percent last month, assembly lines rolled out 0.5 percent more consumer goods in June and 0.5 percent more in business equipment.
An additional regional report showed Monday that manufacturing extended gains into July. The Federal Reserve Bank of New York's general economic index increased to 9.5, the highest reading since February.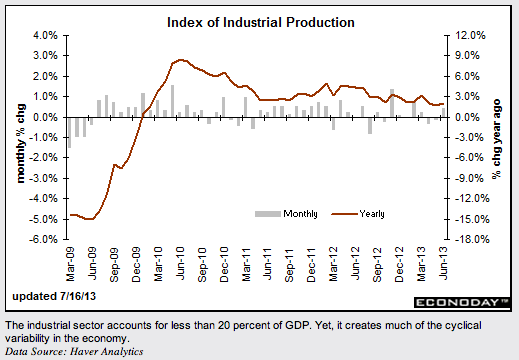 Follow Meghan on Twitter @MFoley_WSCS
Don't Miss: Will Economists Find These Retail Numbers Disconcerting?