Infinity Pharma to Present Data and 2 More Heavily Traded Stocks to Follow
Infinity Pharmaceuticals (NASDAQ:INFI): Current price $24.32
On Thursday, Infinity announced that Phase1 clinical data for IPI-145, its potent, oral inhibitor ofphosphoinositide-3-kinase (PI3K)-delta and PI3K-gamma, will be presented at the 49th Annual Meeting of the American Society of Clinical Oncology, which is being held from May 31 through June 4 in Chicago, and at the 12th International Conference on Malignant Lymphoma, which will be from June 19 through June 22 in Lugano. Crucial clinical results will be presented during both meetings, including updated data from Infinity's Phase 1 study examining the safety, clinical activity, and pharmacokinetics of IPI-145 in people suffering advanced hematologic malignancies.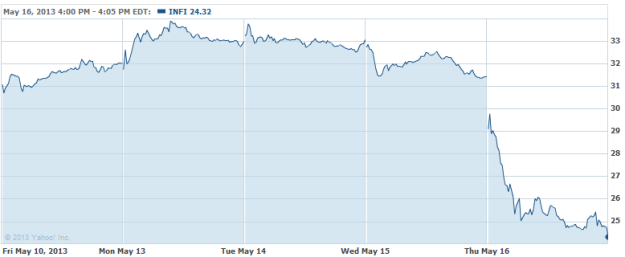 NetApp (NASDAQ:NTAP): Current price $38.46
NetApp shares climbed Thursday on news that the hedge fund Elliott Management is pressing for big changes at the data storage firm. A report by Bloomberg, citing an inside source, said that Elliott has proposed new directors for NetApp's board and has requested that the company to return cash to shareholders. NetApp responded that it does not comment on rumors and speculation. On Wednesday, Elliott disclosed in a regulatory filing that it held 4.1 million shares, or approximately 1 percent of NetApp's shares outstanding as of March 31, up from almost 4 million shares reported in a February filing.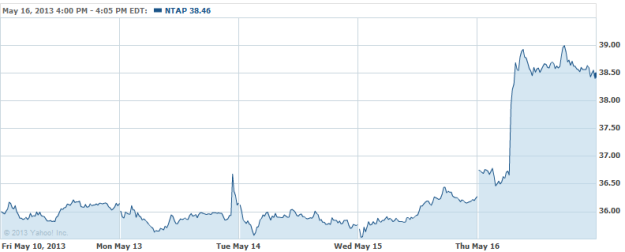 Eagle Bulk Shipping (NASDAQ:EGLE): Current price $5.48
Eagle Bulk posted its results for the first quarter ended March 31 on Thursday. Net reported income came to $1.4 million, or 8 cents per share (based on a weighted average of 16,966,070 diluted shares outstanding for the quarter), versus a net loss year-over-year of $17.4 million, or $1.11 per share, from 2012. Also, net revenues of $72.2 million were reported, compared to $52.6 million for the same period. Gross time charter and freight revenues of $73.6 million were posted, compared with $54.8 million year-over-year from 2012.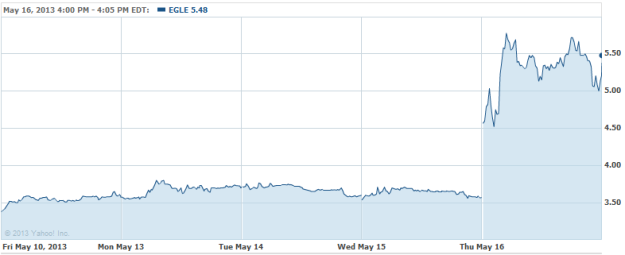 Don't Miss: The Student Debt Bubble Reaches a New Record.