Infosys Beats Analyst Expectations and 2 Morning Hot Stocks Sparking Chatter
Wells Fargo (NYSE:WFC): Current Price $34.98
Wells Fargo (NYSE:WFC) reports a strong Q4 2012 with a record net income of $5.1 billion up 24% year-on-year and record diluted EPS of $0.91 of 25% on revenue of $21.9 billion which rose 7%. Checking and savings deposits grew $72 billion while loans added $29.9 billion. Credit quality was strong and the Tier 1 common equity ratio under Basel I was 10.12 percent. Net interest margin fell 10 bps to 3.56%, due mostly to strong deposit growth. Chief Financial Officer Tim Sloan said, "The Company's underlying results were driven by solid loan growth, improved credit quality, and continued success in improving efficiency. While our fourth quarter included some noteworthy items, we achieved strong returns on average assets and equity of 1.46 percent and 13.35 percent, respectively."

Start 2013 better than ever by saving time and making money with your Limited Time Offer for our highly-acclaimed Stock Picker Newsletter. Get our fresh Feature Stock Pick now!
Infosys Ltd (NASDAQ:INFY): Current Price $51.56
Indian software major Infosys Ltd (NASDAQ:INFY) reported FQ3 EPS of $0.76 and revenue of $1.91 billion which beat analyst expectations by $0.04 and $50 million respectively. Revenues grew 5.8% year on year and net income after tax was $434 million. The company and its subsidiaries added 7499 employees in the quarter and completed the acquisition of management consultancy Lodestone Holding AG. 53 lines were added and the company won eight large outsourcing deals aggregating contract value of $731 million. Its products and platforms secured 14 new wins. For the full year ended March 2013, Infy expects revenues of $7.45 billion and earnings per American depository share to be at least $2.97.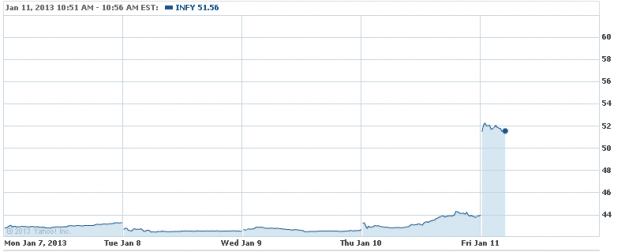 Xbox (NASDAQ:MSFT): Current Price $26.43
The NPD Group, which tracks hardware for the video games industry, said hardware sales fell 27% on an annualised basis during 2012, most of the damage occurring in December when hardware sales fell 20% year-on-year. During the month the Xbox (NASDAQ:MSFT) sold 1.4 million units down 17.6% while sales of the Nintendo Wii dropped 55.2%. Sales of the Nintendo 3DS and DS were down 21.8% and 25.4% respectively. The report has pressured shares of Electronic Arts (NASDAQ:EA) and GameStop (NYSE:GME).

Don't Miss: Morgan Stanley Gets Tough on Microsoft and EMC.