Initial Jobless Claims Still High
According to a weekly report from the U.S. Department of Labor, initial jobless claims remained high in the week ending June 25. Though there were 1,000 fewer new claims than in the week before, 428,000 people still claimed unemployment benefits, up 8,000 from two weeks prior. Economists had expected jobless claims to fall to a seasonally adjusted 425,000 last week. The 4-week moving average, considered a more accurate measure of employment trends, is now 426,750.
On a brighter note, the number of people already receiving unemployment checks dropped by 12,000 to a seasonally adjusted 3.7 million in the week ending June 18. Continuing claims are reported a week later than initial jobless claims. During the week ending June 18, initial jobless claims were up 9,000 over the previous week to 429,000. Total claims are reported with a two-week lag, so the most recent total claims figures are for the week ending June 11, when 7.51 million people received some kind of state or federal benefit.
During that week ending June 11, the highest insured unemployment rates were in Puerto Rico (4.8%), Alaska (4.6%), Pennsylvania (3.9%), California (3.8%), Oregon (3.8%), Nevada (3.5%), New Jersey (3.5%), Connecticut (3.4%), Arkansas (3.2%), Illinois (3.2%), Mississippi (3.2%), New Mexico (3.2%), Virgin Islands (3.2%), and Wisconsin (3.2%%). In the week ending June 18, the states with the largest increases in initial claims were California (+4,393), New Jersey (+3,274), Florida (+3,146), Michigan (+1,794), Pennsylvania (+1,653), while the largest decreases were in Ohio (-2,769), Illinois (-2,557), New York (-2,215), Georgia (-2,119), and Texas (-1,532).
Current employment numbers look best when comparing them to 2010 figures. Initial jobless claims during the same week last year were 472,000, while seasonally adjusted total claims were 4,595,000, down to 3,702,000 in the week ending June 18, with the unemployment insurance claims rate dropping from 3.6% to 2.9%.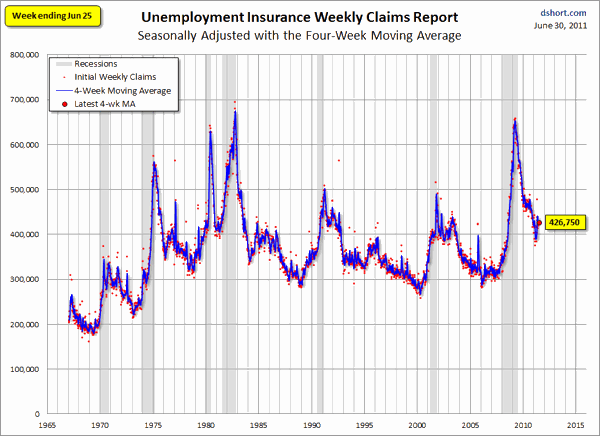 Get Actionable Investing Insights: Check Out Wall St. Cheat Sheet's newest Feature Trades of the Month!