Insmed Earnings: Swung to a Loss on Lower Revenues
Insmed, Inc. (INSM) reported results for the first quarter. Insmed, Inc. is a biopharmaceutical company focused on the development and commercialization of drugs to treat metabolic diseases and endocrine disorders within niche markets that have unmet medical needs.
Don't Miss: Wall St. Cheat Sheet's newest Feature Trades of the Month!
Insmed Earnings Cheat Sheet for the First Quarter
Results: Swung to a loss of $6.9 million (85 cents/diluted share) in the quarter. The pharmaceutical company had net income of $118,000 or 0 cents per share in the year earlier quarter.
Revenue: Fell 17% to $1.6 million YoY.
Actual vs. Wall St. Expectations: The mean estimate for INSM was a loss of 32 cents/share.
Quoting Management: "The first several months of the year have produced multiple successes for Insmed," said Timothy Whitten, Insmed's President and CEO. "In particular, we have reached several key milestones related to our development plan for ARIKACE, including, most recently, the clearance of ARIKACE to proceed to a primary efficacy study based on our NTM IND filing, and the submission in the U.S. of the ARIKACE NTM orphan drug designation. We continue to ramp up our ARIKACE clinical trial and drug manufacturing activity and remain on schedule to begin enrollment of our Phase three clinical trials for ARIKACE in patients who have NTM lung infections and in CF patients who have Pseudomonas lung infections, in the second half of this year. In addition, we have regained compliance with Nasdaq's minimum bid price rule and we remain on solid financial ground, with a strong overall cash balance of $104.9 million, which will continue to drive our development of ARIKACE."
Competitors to Watch: Pfizer Inc. (NYSE:PFE), Bristol Myers Squibb Co. (NYSE:BMY), Cephalon, Inc. (NASDAQ:CEPH), AVI BioPharma, Inc. (NASDAQ:AVII), Merck & Co., Inc. (NYSE:MRK), Roche Holding Ltd. (RHHBY), Eli Lilly & Co. (NYSE:LLY), Amgen, Inc. (NASDAQ:AMGN), Abbott Laboratories (NYSE:ABT), and Array BioPharma Inc. (NASDAQ:ARRY).
Stock Performance: Shares of INSM are unchanged from the previous close of $8.75.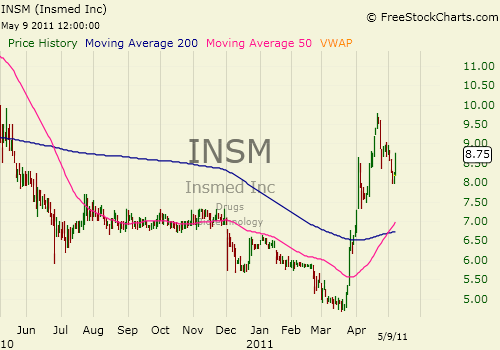 Don't Miss Wall St. Cheat Sheet's newest Feature Trades of the Month!