Instagram Video Launched, Sony Recalls Software Update: Market Recap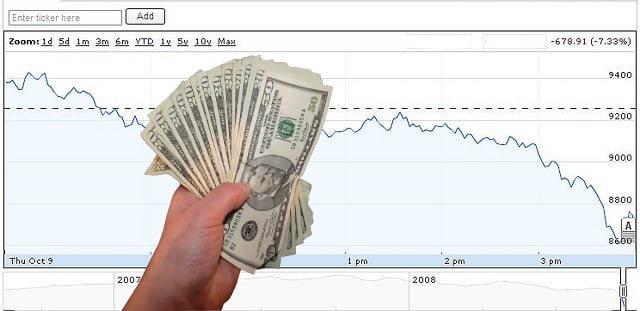 The Dow had its worst day of 2013 and the S&P 500 showed its biggest drop since 2011 as U.S. stocks fell across the board on the news that the Federal Reserve could start tapering stimulus by the end of the year. In a press conference yesterday, Fed Chairman Ben Bernanke said that if the economy continues to improve the central bank will stop purchasing bonds.

Gold: -6.83% to $1,280.10 per ounce  Oil: -3.95% to $93.38  U.S. 10-Year: +4.67 to 2.42%
World Bank: QE Spillover Could Hammer Emerging Markets: Markets around the globe took a beating on Thursday. The big story scaring traders and investors is the increasing likelihood that the U.S. Federal Reserve will begin tapering its quantitative easing program by the end of this year, and possibly end it in 2014… (Read more.)
Has U.S. Manufacturing Entered the Dog Days?: Growth in U.S. manufacturing output hit a three-month high in June, according to flash estimates of the Markit Manufacturing Purchasing Managers' Index. The output index increased from 52.7 in May to 53.9 in June, indicating expansion at a faster rate. The overall PMI index edged down slightly from 52.3 in May to 52.2 in June. Altogether, U.S. manufacturing growth has been weak over the past few months… (Read more.)
Leading Indicators Show the Economy May Take Time to Accelerate: Federal Reserve policymakers said Wednesday that the Federal Open Market Committee sees the "downside risks to the outlook for the economy and the labor market as having diminished since the fall," meaning that the United States economy is firmly enough on the road to recovery that the central bank may begin scaling back its stimulus measures sometime this year. But, as the index of leading indicators rose less than expected in May, the economy may take time to accelerate further… (Read more.)
Here's your cheat sheet to today's top stocks stories: 
Facebook (NASDAQ:FB) had a highly anticipated press conference on Thursday to announce their latest product, an Instagram video-sharing service. The company's Chief Executive Officer Mark Zuckerberg handed the stage to Instagram co-founder and CEO Kevin Systrom, who stressed Instagram's huge growth, citing 16 billion photos shared and 130 million users. Instagram video will allow users to shoot 3 to 15 second videos, with the option of several custom filters and a video stabilization technique called Cinema… (Read more.)
Lululemon's (NASDAQ:LULU) unrealistic expansion goals, in addition to competition from Gap (NYSE:GPS) and UnderArmour (NYSE:UA) have analysts thinking its recent success may not continue for as long as hoped. The list of tasks Lululemon has in front of it — some self-made, others out of their control — is tiresome… (Read more.)
Sony (NYSE:SNE) is recalling the software update for its PlayStation 3 console, following reports that the update has been causing machines to stop working and the failure of certain system functions. Software updates are usually delivered to game consoles to add additional applications and features, or improve their stability. Sony's system software update, version 4.45 — intended to deliver more "trophy notification options and improved system stability" — has proven to hurt more than help… (Read more.)
Microsoft (NASDAQ:MSFT) already designs the software that runs Nokia's (NYSE:NOK) smartphones, so it would make some sense for the Windows Phone developer to purchase the entire handset division from the Finnish mobile phone manufacturer. Sources familiar with Microsoft's plans told The Wall Street Journal that the company has considered just such a move, explaining that it had recently held advanced talks with Nokia regarding a potential acquisition of its handset business… (Read more.)
Ford (NYSE:F) Chief Executive Officer Alan Mulally has expressed concerns about the yen throughout this year, but on Thursday he said Japan was "absolutely" manipulating its currency during an interview with Bloomberg TV. Since mid-November, the Japanese yen has fallen against every major currency, including 18 percent versus the dollar, effectively bolstering the value of overseas sales for Japanese exporters from Toyota (NYSE:TM) to Sony (NYSE:SNE)… (Read more.)
Home Sales Surge But Supply Constraints Loom: Total existing home sales — completed transactions that include single-family homes, townhomes, condominiums, and co-ops — increased 4.2 percent on the month in May to a seasonally-adjusted annual rate of 5.18 million. May's SAAR is 12.9 percent above the year-ago period, and is the highest level since November 2009. "The housing numbers are overwhelmingly positive," commented Lawrence Yun, chief economist at the National Association of Realtors, which publishes the report… (Read more.)
Don't Miss: Is Manufacturing a Dark Spot for the Labor Market?
Follow Jacqueline on Twitter @Jacqui_WSCS