Intel Considers Outside CEO and 3 Morning Hot Stocks Trading Now
Walt Disney Co. (NYSE:DIS): Current Price $55.11
Walt Disney Co. (NYSE:DIS) sold $800 million worth of two-year notes in its first issue of floating rate debt after 2008. The company previously raised $3 billion in a November four-part debt offering.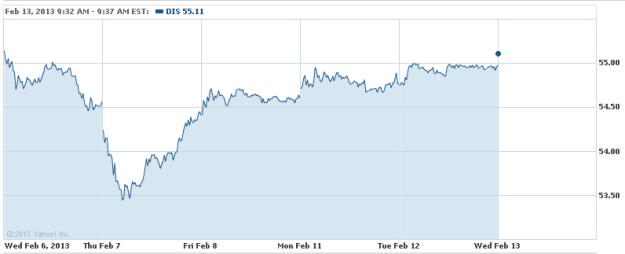 Netflix (NASDAQ:NFLX): Current Price $181.87
Speaking at an allthingsD conference, Netflix (NASDAQ:NFLX) Chief Content Officer Ted Sarandos revealed that its in-house series "House of Cards" was its top-viewed title and confirmed that the company got more payback through its investment in creating the series rather than spending the money elsewhere. Though he declined to give any numbers, he said nearly all of the initial viewers watched multiple episodes after seeing the first episode of the series. Netflix has spent about $100 million on two seasons of the show.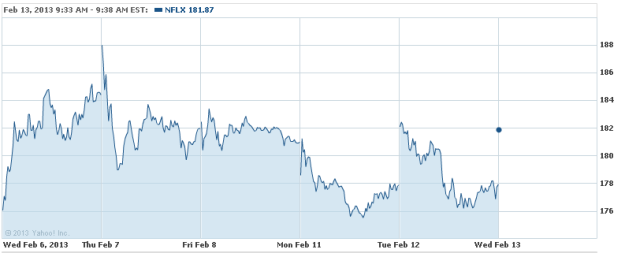 Intel Corp. (NASDAQ:INTC): Current Price $21.23
Intel Corp. (NASDAQ:INTC), in a break from tradition, has hired global executive search firm Spencer Stuart & Associates Ltd to find its next Chief Executive Officer in place of current CEO, Paul Otellini, who will be retiring in May, says Bloomberg. To the surprise of many, the top post may be filled from the outside. Internal candidates in the running for the position are likely to be Chief Operating Officer Brian Krzanich, Chief Financial Officer Stacy Smith and software head Renee James, according to sources. However, a spokeswoman for Intel said yesterday, "No candidate has the inside track, and the board will be equally looking at internal and external candidates." Considering the challenges facing Intel from mobile computing, the board may well lean in favor of an external appointment.

Comcast (NASDAQ:CMCSA): Current Price $41.28
Comcast (NASDAQ:CMCSA) raised most of the money to pay for its $17 billion acquisition of a 49% stake in NBCUniversal and associated real estate, by selling its stake in A&E Network and sales of wireless spectrum to Verizon (NYSE:VZ). Comcast had the option to purchase the stake from GE (NYSE:GE) in 2014, but elected to bring the deal forward because the opportunity was probably available "at a more meaningful and reasonable price today," according to Nomura analyst Michael McCormack. He also said the deal was beneficial for GE, giving it more certainty, and also providing NBC with access to cable cash flow that it could use for investing.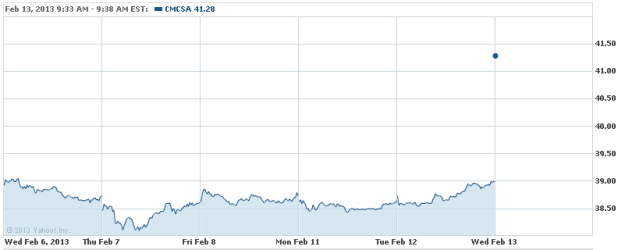 Don't Miss: Watch Out, Michael Dell — Shareholders are Angry.