Intel Falls Behind Qualcomm, BofA Reports Strong Earnings: Market Recap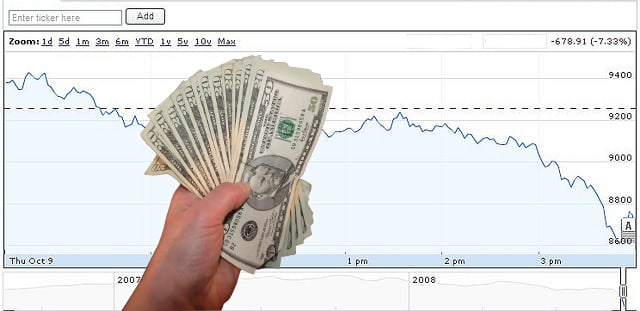 U.S. stocks rose today after Federal Reserve Chairman Ben Bernanke said the central bank had no plans to end stimulus as of yet. The slight edge was also aided by favorable earnings reports from several major companies including Bank of New York Mellon (NYSE:BK) and Bank of America (NYSE:BAC). The S&P 500 was able to make some gains today after snapping an eight-day winning streak yesterday.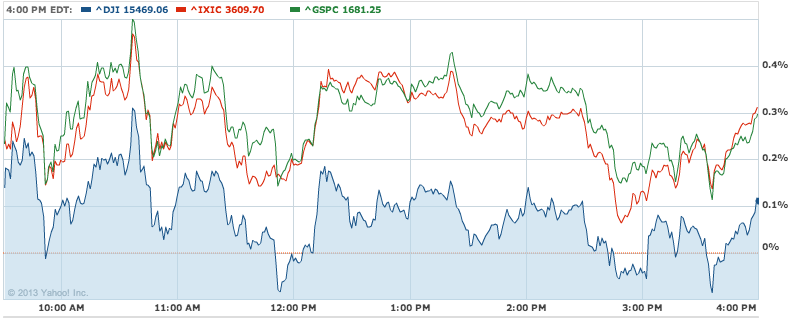 Gold: -1.15% to $1,275.60 per ounce  Oil: +0.37% to $106.39 per barrel  U.S. 10-Year: -1.62 to 2.491%
Bernanke's Policy Report: Where Are We, and Where Are We Going?: At a glance, Chairman Ben Bernanke's testimony and the accompanying monetary policy report are an opportunity for both Congress and the public to update their understanding of current Fed thinking. Zero-bound and unconventional monetary policy has dominated the post-crisis economy and has been simultaneously credited with fueling the recovery and contributing to the buildup of bad mojo over the past few years… (Read more.)
OECD to G-20: Deliver Global Growth: The Organization for Economic Cooperation and Development is stepping up the pressure on the world's leading economies to get people back to work ahead of the Group of 20 summit in Moscow later this week as the global economy continues to struggle to find solid ground… (Read more.)
Are Restaurant Sales Serving a Warning to the Economy?: America recently lost the unflattering status of being the most obese developed country in the world. However, eating food is practically a national pastime, and still serves as an economic indicator. Consumers have been eating out more since the trough of the Great Recession, but sales declined in June for the second consecutive month… (Read more.)
Here's your cheat sheet to today's top stories: 
Yahoo (NASDAQ:YHOO) shares surged after the company's second-quarter earnings beat expectations. Yahoo stock closed up 10.34 percent at a new 52-week high of $29.73 after setting intraday highs not seen since 2008… (Read more.)
Qualcomm (NASDAQ:QCOM) is making some bold claims about its ability to catch up with rival Intel (NASDAQ:INTC), the world's largest chipmaker, through its dominance in mobile computer chips. Qualcomm, which is currently the biggest chipmaker for mobile phones, will soon break into the tablet market… (Read more.)
Bank of America (NYSE:BAC) delivered strong earnings results today, beating analyst expectations. The company reported adjusted earnings per share of $0.32, increasing 68.42 percent from $0.19 in the second quarter of last year. Those earnings beat the mean analyst estimate of $0.25 per share. The bank's revenue fell 13.13 percent to $22.95 billion.
Mattel Inc. (NASDAQ:MAT) managed to squeeze out a profit for the quarter, but the company is hurting from falling sales of its Barbie Doll toys. The toy-maker's adjusted earnings per share fell 25 percent from second quarter a year ago to $0.21. That figure fell short of analyst estimates that placed earnings around $0.32. Revenue rose .89 percent to $1.17 billion, but also missed analyst expectations of $1.22 billion.
American Express Company (NYSE:AMX) delivered a profit this quarter, reporting adjusted earnings per share of $1.27, a 10.43 percent growth from $1.15 in the second quarter of last year. The credit card company fell short on revenue, which decreased 3.17 percent to $8.25 billion. That revenue shortfall is a bad sign for investors expecting growth from the company. The average analyst revenue estimate for the company was $8.28 billion.
Tesla Motors (NASDAQ:TSLA) chief executive officer Elon Musk has managed to take a once seemingly failing automobile company, and turn it into an electric car manufacturer superstar. The entrepreneur and his company have effectively revolutionized the electric vehicle game, and the soaring sales of Tesla's new Model S have analysts predicting that the automaker isn't going anywhere anytime soon… (Read more.)
Follow Jacqueline on Twitter @Jacqui_WSCS
Don't Miss: Higher Interest Rates Weigh on the Housing Market.