Intel Outlook Stays Positive Despite PC Demand Slump and 2 Chip Stocks To Note Now
Intel(NASDAQ:INTC): RW Baird maintains that Intel's outlook is bullish, citing the demand for touchscreen notebooks, recovery in its enterprise sector, and strong growth in high-end computing. Shares are rated at Outperform, with a $26 price target, and the firm sees potential upside if economic conditions improve.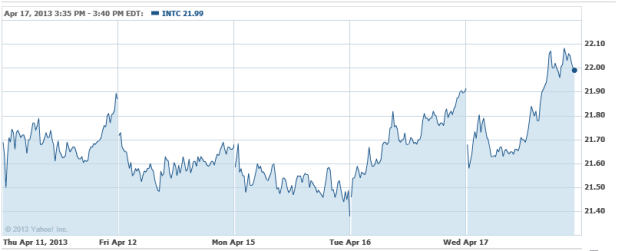 Qualcomm (NASDAQ:QCOM): The processor giant has announced that it will issue a dividend of $0.35, a 40 percent increase over first quarter dividend of $0.25. It will be paid on June 26, with an ex-dividend date of June 5. Qualcomm's second quarter performance results will be released on April 24.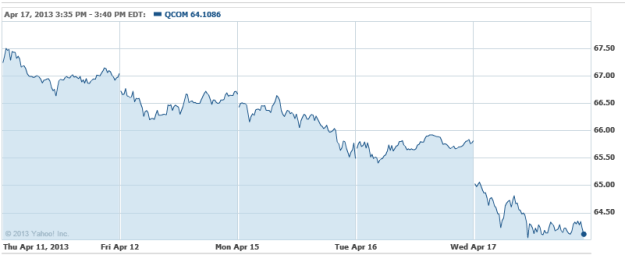 Advanced Micro Devices (NYSE:AMD): AMD, which had a pretty rough 2012 year that it finished out with a 17 percent decline in sales, is scheduled to release its new graphics card aptly named the Radeon HD 7990, on April 24. However, although it is slated to be debuted that day, reports don't indicate whether it will be available in stores at that time or not. What is known is that the new card will be quite potent, and must have superior performance in order to fend off the graphics card lines from rival NVIDIA (NASDAQ:NVDA).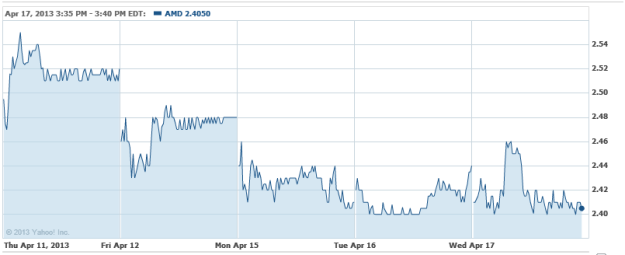 Investing Insights: Is Rackspace Undervalued?