Intel Passes Amazon In Market Cap and 2 Other Dow Movers To Watch
Intel Corporation (NASDAQ:INTC): Current price $23.95
According to the underlying components of the S&P 500, as ranked by largest market capitalization, Intel Corp has taken the 25th place from Amazon.com (NASDAQ:AMZN), says The Online Investor. Market capitalization exhibits a correct comparison of the value given through the stock market to any particular stock. In the case of Intel, the market cap is now $117.63 billion, versus Amazon.com  at $113.69 billion.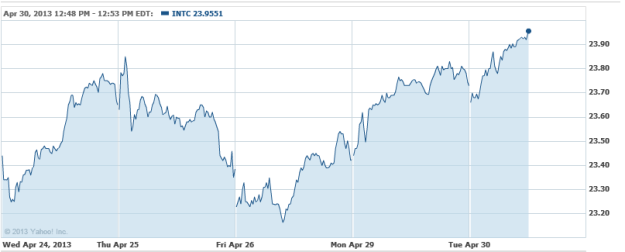 The Coca-Cola Company (NYSE:KO): Current price $42.25
The Office of Tourism Ohio, McDonald's Restaurants of Ohio, and The Coca-Cola Company have introduced Discover Ohio To Go, a pioneer promotion created to give travelers exclusive discounts at some of the state's most popular tourism attractions. Customers buying a large soft drink or iced tea beverage at participating McDonald's locations between April 29 and June 9 can redeem the cup at participating tourism attractions for discounts on admission, lodging plus more.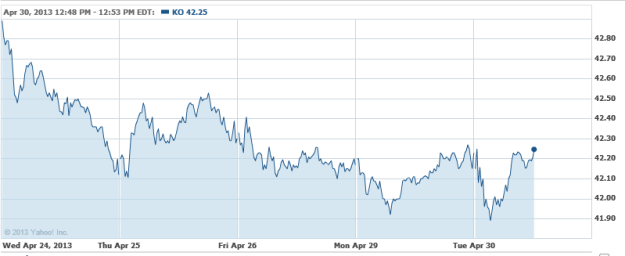 The Walt Disney Company (NYSE:DIS): Current price $63.02
IMAX Corporation (NYSE:IMAX) and Marvel Entertainment reported that Marvel's Iron Man 3 has grossed around $7.1 million in 113 IMAX theaters since its debut on April 24, through Sunday. The launch broke IMAX opening records in Taiwan, the Netherlands, Brazil and the Philippines.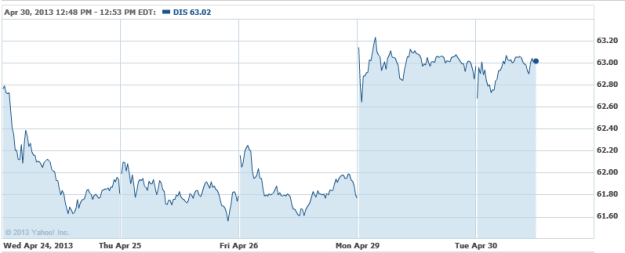 Investing Insights: Is NVIDIA Undervalued?