Intel Promises Inexpensive Tablets & PCs for Holidays and 2 More Heavily Traded Stocks to Follow
Intel Corp. (NASDAQ:INTC): Current price $23.92
During his third-quarter financial call, Intel Chief Executive Brian Krzanich promised that the upcoming shopping season will be known for all of the inexpensive tablets and computers that are ready to weigh down the shelves before the end of 2013. Krzanich said that because of Intel's most recent hardware, he anticipates seeing more and more inexpensive gadgets available in time for Christmas. Besides that, he said that the cost savings and performance that Intel's Bay Trail, Haswell, and Atom processors offer will should translate into $99 tablets, $299 Haswell laptops, and $349 2-in-1 hybrid tablets and laptops.

BlackBerry Ltd. (NASDAQ:BBRY): Current price $8.15
According to the Wall Street Journal, Lenovo's name is once again in the news as a possible suitor for BlackBerry. The newspaper reports that the Chinese firm is "considering" an acquisition of Blackberry, adding that, "The firm has signed a non-disclosure agreement to look at the smartphone maker's books." Now that BlackBerry is openly appealing to buyers, it seems that Lenovo is seriously checking out a purchase. The Canadian holding company Fairfax Financial offered $4.7 billion for BlackBerry in September, but now that offer might be falling through, as Bloomberg reported earlier in the week that a transaction with Fairfax was becoming less likely since BlackBerry's stock price dropping below the firm's offer amount.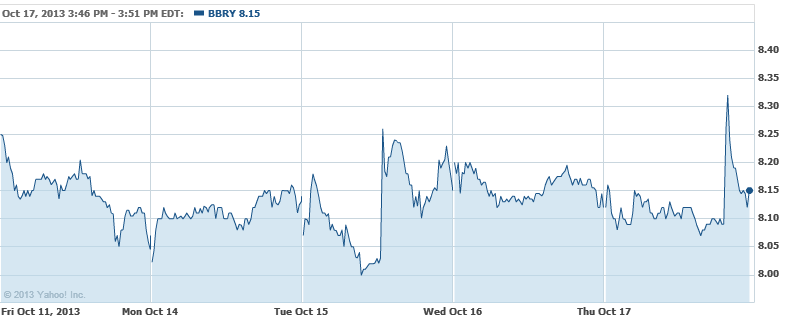 UnitedHealth Group Inc. (NYSE:UNH): Current price $71.27
On Thursday, UnitedHealth Chief Executive Stephen Hemsley forecast a rough year in 2014, due to government funding cuts to its private Medicare business, pulling down its shares and those of its rivals. Hemsley said that "underfunding" of Medicare Advantage plans for the elderly cannot be fully compensated by the firm's other healthcare business. UnitedHealth has said prior to this that it plans to pull out from some markets next year because of these cuts. As a result, Hemsley told investors during a call to talk about quarterly results, that his company's 2014 earnings could be either lower or higher than its forecast 2013 profit, which it trimmed to between $5.40 and $5.50 per share.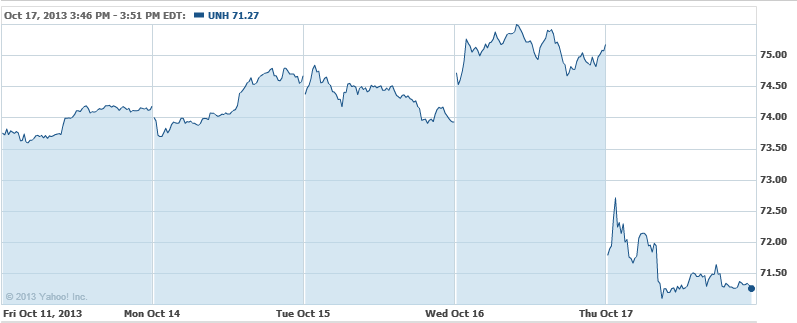 Investing Insights: Can Yahoo Head Higher After Earnings?