Intel Reports Bomb Threat and 4 Chip and Big Data Stocks on the Move
Intel Corporation (NASDAQ:INTC): Current Price: $18.01
Police have started to investigate a "suspicious call" at the Intel plant in Chandler following a number of reports that a bomb threat was called in at aound 5:30 a.m. On Monday, Chandler police received a 911 call from an individual telling them that there was a bomb on the Intel campus, claims spokesman Seth Tyler. Police did confirm that they are currently working a suspicious call at Intel, but were unable to confirm if there was an actual bomb at the plant.

Broadcom Corp. (NASDAQ:BRCM): Current Price: $33.42
The company is to start trading ex-dividend on February 13, 2013 and a cash dividend payment of $0.11 per share is to be paid on March 04, 2013. Shareholders purchasing BRCM stock before the ex-dividend date are eligible for the cash dividend payment. This is a 10 percent increase over the previous quarter.
Are these stocks a buy or sell? Let us help you decide. Check out our Stock Picker Newsletter now.

QUALCOMM Incorporated (NASDAQ:QCOM): Current Price: $67.11
Spice Global teamed up with Qualcomm to launch a mobile health service in India. The service is to be be launched in tier I and II cities leveraging Wi-Fi, 3G and 4G technologies.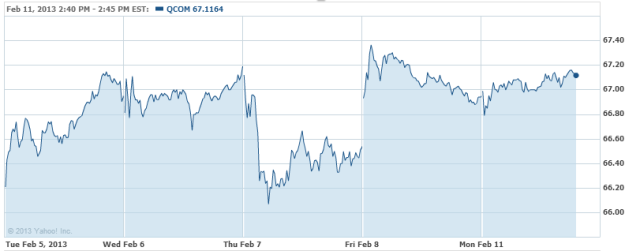 Rackspace Hosting, Inc. (NYSE:RAX): Current Price: $74.73
Alan Perkins has been named Director of Technology & Product for the Australian wing of Rackspace. This comes four years after he, who majored in systems analysis, made it to the shortlist of a prestigious award in Australia.

VMware, Inc. (NYSE:VMW): Current Price: $77.20
The company has released a patch for a security vulnerability in its ESX, Workstation, Fusion, and View virtualisation software. This fix is to repair a flaw that could be exploited to maximize a user's privileges on a host or guest machine running Windows.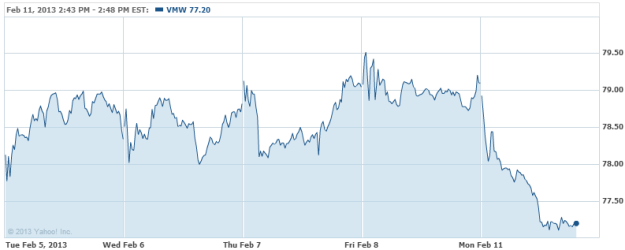 Don't Miss: Is Microsoft Doing Enough to Stay Relevant?