Intel Searches for Windows Phone Designers and 4 Chip and Big Data Stocks on the Move
Intel Corporation (NASDAQ:INTC): Current Price: $21.31
After it worked with a number of Android manufacturers to release several Android phones with Intel's x86 Atom architecture, the company hopes to gain traction inside the competitive mobile space by tackling the Windows Phone market. A LinkedIn job ad claims that Intel has begun to hunt for Windows Phone engineers to assist the company in going "beyond PCs and servers to netbooks, handhelds, consumer electronics devices, and more."

Broadcom Corp. (NASDAQ:BRCM): Current Price: $32.52
The company keeps its Buy rating by equities research analysts at Argus via a research note that was issued to investors on Monday. As of now, they have a $46.00 price target on the stock.

QUALCOMM Incorporated (NASDAQ:QCOM): Current Price: $65.79
The company has announced that a United States District Judge ordered Gabriel Technologies Incorporated to pay over $12.4 million in attorneys' fees for pursuing objectively baseless claims against Qualcomm in bad faith. The complaint was filed in October 2008 and it argued eleven causes of action against Qualcomm, focusing on claims that Gabriel had ownership rights to a number of Qualcomm patents concerning GPS technologies. Gabriel sought one billion dollars in damages and a number of Gabriel's claims were dismissed early during the long litigation. Recently, the Court gave Qualcomm summary judgment on the remaining claims.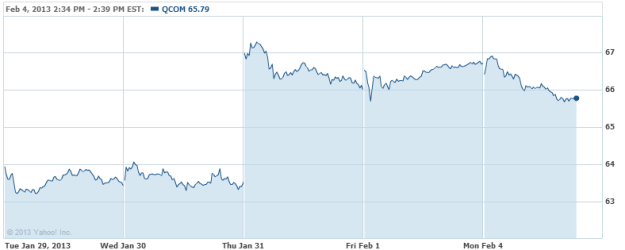 Rackspace Hosting, Inc. (NYSE:RAX): Current Price: $74.87
The company is a co-developer of the OpenStack cloud platform along with NASA and it is creating a more direct path for large, full-service IT providers to deploy the popular open-source-based software in large-scale private cloud projects.

EMC Corporation (NYSE:EMC): Current Price: $24.69
Today, the company announced that AutomationDirect.com, a top online superstore of industrial controls products, has standardized on EMC VMAX 10K with FAST VP (Fully Automated Storage Tiering for Virtual Pools), along with additional EMC software. AutomationDirect.com has been leveraging these EMC technologies to drive rapid business expansion and lower costs as it rolls out strategic initiatives including disaster recovery, virtualized desktop computing, and Big Data analytics.

Don't Miss: IBM Gets Social With McDonald's.