Intel Stumbles on Baird Downgrade and 2 Other Dow Movers to Watch
Intel Corp. (NASDAQ:INTC): Current price $22.06
Shares of Intel are down more than 2 percent after analyst Tristan Gerra at Robert W. Baird downgraded the stock from Outperform to Neutral. Following research conducted in Asia, Gerra thinks that the chipmaker is likely to be negatively impacted by a number of trends. The analyst forecasts that Intel will be harmed by a decline in PC output this quarter that will be bigger than expected and added that consumer PC sales may continue to be weak next year.

The Boeing Co. (NYSE:BA): Current price $102.76
Air Berlin announced it has signed a letter of intent to sell 11 new and used aircraft to Minsheng Commercial Aviation Limited. The divestiture covers the sale and lease-back of five used Airbus A320 family aircraft owned by Air Berlin, together with deliveries of new Airbus A320 family aircraft, and a new Boeing 737-800 aircraft next year. Additionally, Minsheng, which is a unit of the Chinese leasing firm Minsheng Financial Leasing, will have the option to purchase four Boeing 737s from Air Berlin and bring them into the Chinese market.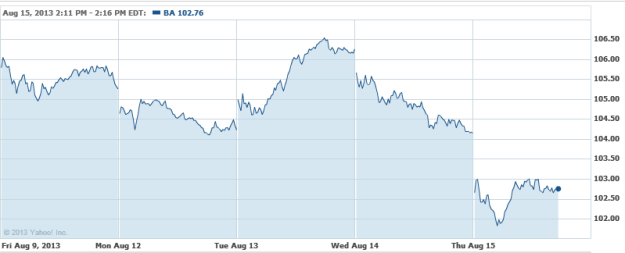 General Electric Co. (NYSE:GE): Current price $24.01
Gerenal Electric's tech development arm GE Global Research announced Thursday that research could significantly affect the design of future wind turbine blades. Employing the power of high-performance computing to perform complex calculations, GE engineers have surpassed previous design constraints, permitting them to start exploring ways in which to design reengineered wind blades that are low-noise and more prolific power-producers. Working jointly with the Sandia National Laboratories in Albuquerque, GE's work was concentrated on moving wind turbine blade noise prediction methods forward.