Intel to Exit From Motherboards and 4 Hot Stocks Changing Hands
Cisco Systems (NASDAQ:CSCO): Current Price $20.78
Cisco Systems (NASDAQ:CSCO) disclosed today its intentions to buy Intucell, an Israeli provider of self optimising network (NYSE:SON) software that enables mobile operators to automatically manage their cellular networks during real-time in tune with fluctuating network demands. Cisco would pay $475 million in cash and retention-based incentives for the company. "Through the addition of Intucell's industry-leading SON technology, Cisco's service provider mobility portfolio provides operators with unparalleled network intelligence and the unique ability to not only accommodate exploding network traffic, but to profit from it," said Kelly Ahuja, Senior Vice President and general manager, Cisco Service Provider Mobility Group.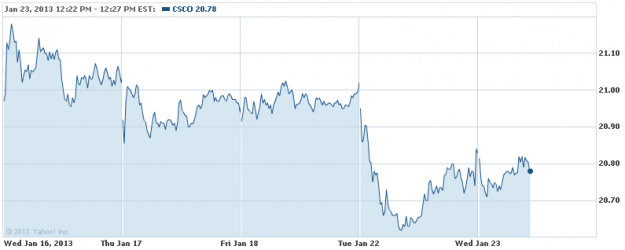 First Niagara (NASDAQ:FNFG): Current Price $8.18
First Niagara (NASDAQ:FNFG) reports fourth quarter EPS of $0.19, ahead of expectations by $0.01. Interest-bearing imbalances were up 32% while mortgage originations rose 12% to an all-time record. Wealth management fees are up 8% while capital markets revenue climbed 11% and loan yields declined 8 basis points while deposit rates fell 3 basis points. "Throughout 2012, First Niagara has delivered solid fundamental operating performance across all geographies enabled by strong traction with our new products and services," said Gregory W. Norwood, Chief Financial Officer.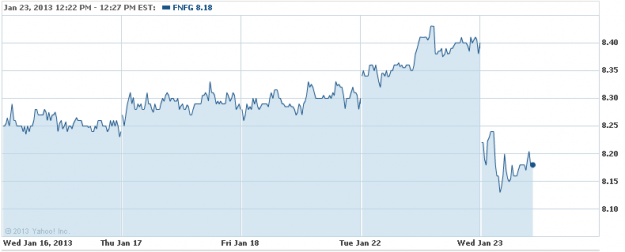 Are these stocks a buy or sell? Let us help you decide. Check out our Stock Picker Newsletter now.
Intel Corp (NASDAQ:INTC): Current Price $21.07
Intel Corp (NASDAQ:INTC) is set to exit from its motherboards business and will discontinue their manufacture after the launch of the Haswell processors later this year. Motherboards for the Haswell processors are likely to be available through 2015, and will be fully warranted and supported with BIOS updates for their lifetime, according to geek.com. Intel would like to focus instead on the mobile market such as smart phones and tablets, ultrabooks, and all-in-one desktops.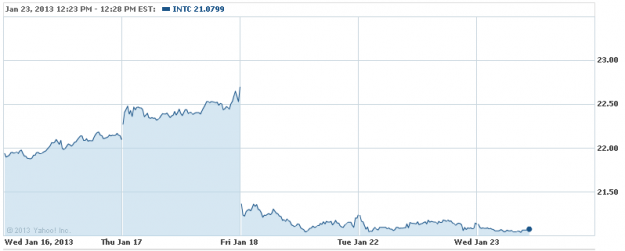 USAirways (NYSE:LCC): Current Price $15.46
USAirways (NYSE:LCC) reports fourth quarter EPS of $0.26, beating estimates by $0.06. However, revenue of $3.27 billion fall short of consensus by $0.01 billion. On a full-year basis, the company reported a record net profit before special items of $537 million ($2.79 per diluted share). Chairman and CEO Doug Parker stated, "Our team members produced the best operating reliability performance in our history -which is no easy feat since US Airways led all network carriers in on-time performance from 2008-2011. But in 2012, we did even better with record highs in on-time performance, completion factor and baggage handling. This helped lead to our best ever annual results in total revenue, total traffic, mainline load factor, mainline yield and mainline revenue. These outstanding operating and revenue results combined with strong cost discipline led to record net income excluding special items of $537 million, up nearly 400 percent versus last year."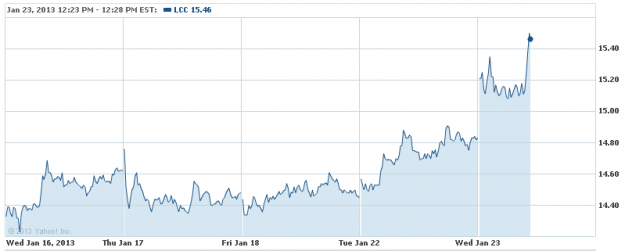 Barnes & Noble Inc (NYSE:BKS): Current Price $13.01
NOOK Media LLC, a subsidiary of Barnes & Noble Inc (NYSE:BKS), announced that leading education company Pearson (NYSE:PSO) had completed its investment in the company through an approximately $89.5 million cash investment at a post-money valuation of approximately $1.789 billion in exchange for preferred membership interests representing a 5% equity stake. As a result of investment, major holdings in Nook Media LLC are Barnes & Noble 78.2%, Microsoft (NASDAQ:MSFT) 16.8% and Pearson 5%.

Investing Insights: Will AMD Be the Turnaround Story of 2013?