Intel to Sell Internet-Based TV In Set-Top Box and 2 More Heavily Traded Stocks to Follow
Intel Corporation (NASDAQ:INTC): Current price $23.88
Intel's Vice President and General Manager Eric Free said that his company plans to start selling a set-top box that offers Internet-based television service in 2013, and is confident it can obtain programming. Free described plans for the product and service Tuesday at the TV of Tomorrow conference in San Francisco, remarking that "Ultimately we want to deliver a better form of television. We're very confident we'll get the content we need to launch later this year."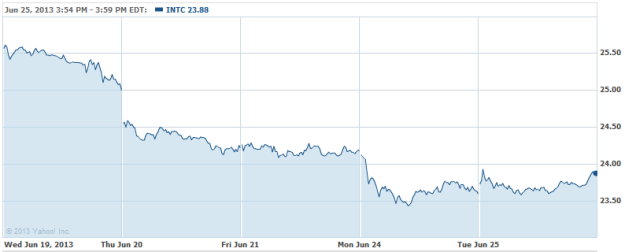 Facebook (NASDAQ:FB): Current price $24.25
On Tuesday, the former Republican Oregon gubernatorial candidate Craig Berkman pleaded guilty to defrauding investors by persuading them that he could utilize their money to purchase shares of Facebook, prior to its May 2012 initial public offering. Berkman admitted to telling investors that he had access to scarce pre-IPO shares of Facebook, together with those of LinkedIn, Groupon and Zynga. However, Berkman used the investors' money to make payments to earlier investors , constituting a classic Ponzi scheme, and to pay personal expenses, which included $6 million in a personal bankruptcy case, according to Assistant United States Attorney John O'Donnell at a hearing in federal court in New York.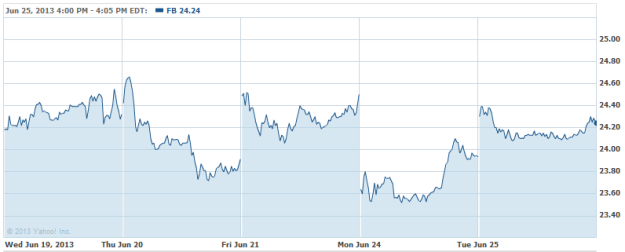 Nokia Corporation (NYSE:NOK): Current price $3.84
The soaring popularity of Asha flagship phones is thought to have prompted Nokia to debut the handset Asha 501, which is based upon a new Asha 1.0 operating system. The firm will ship the new phone to Thailand and Pakistan starting this week. The new device will reach popular markets such as India, Latin America and Europe at a later date. The mobile phone is available in both single and dual sim and features a 3.2 megapixel camera with EDGE EGPRS (2.75 gigabytes) connectivity.