Intel's New CEO Shakes Up Company Structure and 2 More Heavily Traded Stocks to Follow
Intel Corporation (NASDAQ:INTC): Current price $24.15
Intel's new Chief Executive Brian Krzanich has re-organized the key business groups and formed a "new devices" division, said a source who has viewed an internal email. Krzanich is remaking the structure of the number-one world chipmaker, only days after assuming control. The Intel spokesman Chuck Mulloy confirmed that Krzanich sent the internal email outlining the reorganization.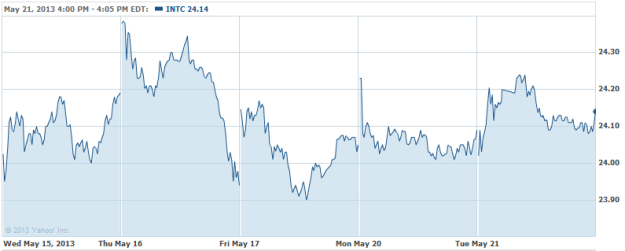 BlackBerry (NASDAQ:BBRY): Current price $14.77
It appears that BlackBerry now intends to strongly influence the smartphone industry, as it changes its concentration with the news of a new smartphone model and its intentions to offer the BlackBerry Messaging instant message service on other platforms. The company's BlackBerry Enterprise Service offering has long permitted customers to manage BlackBerry devices within corporate or government networks, and is now extending that feature to allow customers to manage non-BlackBerry devices. Beyond that, it is also supplying security for data, no matter which devices the customers use.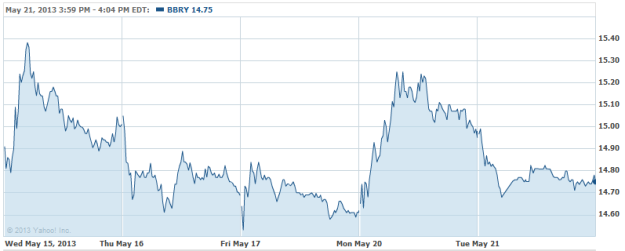 FirstSolar (NASDAQ:FSLR): Current price $55.63
On Tuesday, shares of the top solar firms are popping, as shipments begin climbing, and the renewable energy producers based in China wax optimistic on the long term. Shares of FirstSolar, which is the biggest of the solar companies, having a market cap of almost $5 billion, appreciated in excess of 3 percent to $56.61 in recent trading.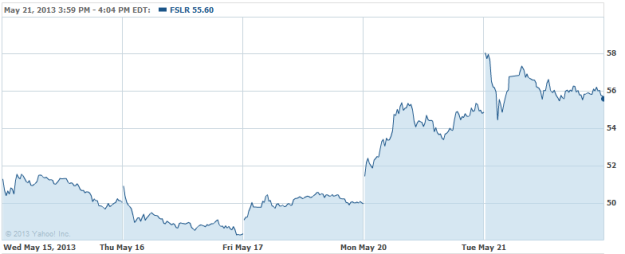 Investing Insights: Is Dell a Dud?