IntercontinentalExchange Earnings: Net Income Rises for Third Straight Quarter
S&P 500 (NYSE:SPY) component IntercontinentalExchange, Inc. (NYSE:ICE) reported its results for the first quarter. IntercontinentalExchange, Inc. operates the electronic futures and OTC marketplace for the trading of energy, soft agricultural commodities, credit default swaps and other financial products.
Don't Miss: Wall St. Cheat Sheet's newest Feature Trades of the Month!
IntercontinentalExchange Earnings Cheat Sheet for the First Quarter
Results: Net income for IntercontinentalExchange, Inc. rose to $128.9 million ($1.74/share) vs. $101.2 million ($1.36/share) in the same quarter a year earlier. A rise of 27.4% from the year earlier quarter.
Revenue: Rose 18.7% to $334.3 million YoY.
Actual vs. Wall St. Expectations: ICE reported adjusted net income of of $1.77/share. By that measure, the company beat the mean estimate of $1.69/share. Estimates ranged from $1.61 per share to $1.75 per share.
Quoting Management: Said ICE Chairman and CEO Jeffrey C. Sprecher: "By focusing on the needs of our customers and opportunities in our markets, ICE continues to produce consistent financial and operating results. Our own organic growth has been enhanced by our long history of successful acquisitions. ICE's ability to transform acquisitions into opportunities for future growth has been a defining characteristic of ICE and a major point of distinction in the exchange sector."
Key Stats:
The company has enjoyed double-digit year-over-year revenue growth for the past five quarters. Over that span, the company has averaged growth of 16.3%, with the biggest boost coming in the first quarter of the last fiscal year when revenue rose 21.6% from the year earlier quarter.
The company has now seen net income rise in three-straight quarters. In the fourth quarter of the last fiscal year, net income rose 17.7% and in the third quarter of the last fiscal year, the figure rose 10.1%.
Competitors to Watch: NYSE Euronext (NYSE:NYX), NASDAQ OMX Group, Inc. (NASDAQ:NDAQ), CME Group Inc. (NASDAQ:CME), CBOE Holdings, Inc (NASDAQ:CBOE), Deutsche Boerse AG (DB1), MarketAxess Holdings Inc. (NASDAQ:MKTX), Forestar Group Inc. (NYSE:FOR), Bank of America Corp. (NYSE:BAC), BGC Partners, Inc. (NASDAQ:BGCP), and Thomson Reuters Corp. (NYSE:TRI)
Stock Performance: Shares of ICE are trading at $116.45 as of May 4, 2011 at 7:43 AM ET, unchanged from the previous close.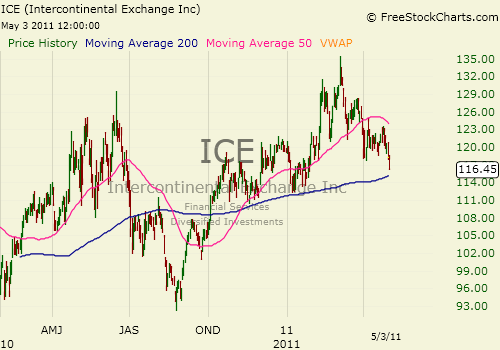 Don't Miss Wall St. Cheat Sheet's newest Feature Trades of the Month!