Intrepid Potash Estimates Deemed Too High and 4 Stock Analyses Making Rounds
Affymax, Inc. (NASDAQ:AFFY):  Current price $16.55
Baird said that the reaction to shares of Affymax, Inc. was misplaced in respect to the Fresenius (NYSE:FMS) pilot program. The firm saw that communication as standard operating procedure and believes that it is actually a strong positive signal suggesting that the chances of an expanded contract are now materially higher. Shares are Outperform rated with a $30 price target.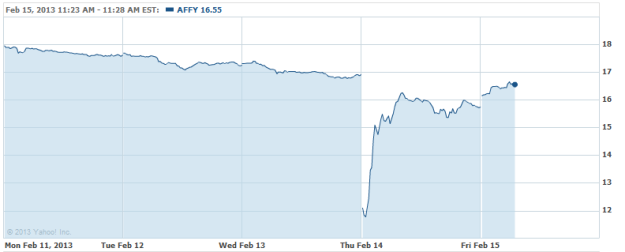 Forestar Group Inc. (NYSE:FOR): Current price $19.86
After the company provided guidance that the firm views as strong, JMP Securities increased their target on Forestar Group Inc. The firm expects the company to meet its guidance and they remain bullish on the stock. The firm maintains an Outperform rating on the shares.

Intrepid Potash, Inc. (NYSE:IPI): Current price $21.23
Susquehanna lowered their price target on Intrepid Potash following their fourth quarter results. The company sees no first half price momentum in potash prices and believes consensus estimates are too high for 2013. Susquehanna lowered their estimates and price target lowered from $26 to $21 . Shares are Neutral rated.

DIRECTV (NASDAQ:DTV): Current priced $49.59
Following solid fourth results, Brean Capital lowered the price target on DirecTV due to a larger than expected devaluation of Venezuelan currency. Brean Capital maintains their Buy rating, citing their increased buyback authorization, revenue growth, and history of capital returns.

LogMeIn, Inc. (NASDAQ:LOGM): Current price $17.01
Piper Jaffray said that while LogMeln, Inc.'s guidance eliminates the chance of 2013 being a bounce back year, they believe that the stock will move higher throughout the year. Piper thinks LogMeln's guidance is not as bad it looks when factoring in the one year tax rate increase. The firm lowered their price target for shares from $28 to $26 and maintains an Overweight rating on the name.

Investing Insights: Is MasterCard's Stock a Buy Now?