Intuit Earnings Cheat Sheet: Margin Expands Boosted by Rising Revenue
S&P 500 (NYSE:SPY) component Intuit Inc. (NASDAQ:INTU) reported its results for the third quarter. Intuit Inc. provides business and financial management solutions for businesses, consumers, accounting professionals and financial institutions.
Don't Miss: Wall St. Cheat Sheet's newest Feature Trades of the Month!
Intuit Earnings Cheat Sheet for the Third Quarter
Results: Net income for the application software company rose to $688 million ($2.20/share) vs. $576 million ($1.78/share) in the same quarter a year earlier. A rise of 19.4% from the year earlier quarter.
Revenue: Rose 15% to $1.85 billion YoY.
Actual vs. Wall St. Expectations: INTU reported adjusted net income of of $2.33/share. By that measure, the company beat the mean estimate of $2.28/share. Estimates ranged from $2.25 per share to $2.34 per share. Analysts were expecting revenue of $1.82 billion.
Quoting Management: "Across the company, our businesses continue to benefit from the secular shift from manual, paper-based methods to digital solutions," said Brad Smith, Intuit's president and chief executive officer. "Our high-margin core businesses are thriving. In a particularly competitive tax season, we finished with strong momentum, taking share and growing revenue per unit to achieve year-to-date consumer tax revenue growth of 13 percent. In small business, we now serve nearly five million unique customers. We've achieved marked success with mobile offerings such as GoPayment and SnapTax, innovative solutions that have helped us establish a leadership position in mobile – the next frontier of connected services. Across the company, we are continuing to innovate in mobile. You'll see interesting new apps from us for consumers and small businesses over the next several quarters. We're pleased with the quarter, we're confident in the year, and we're optimistic about the progress we're seeing across the company," Smith said.
Key Stats: From the second quarter, the company's current liabilities rose to $2.04 billion from $1.5 billion.
Revenue has risen the past four quarters. Revenue increased 4.9% to $878 million in second quarter. The figure rose 7.9% in first quarter from the year earlier and climbed 12.9% in fourth quarter of the last fiscal year from the year-ago quarter.
The company topped expectations last quarter after falling short of forecasts in the second quarter with net income of 26 cents versus a mean estimate of net income of 27 cents per share.
Margins rose in the second quarter after falling the quarter before. Gross margin rose 0.6 percentage point to 91.1% from the quarter earlier quarter. In the first quarter, the figure rose 0.6 percentage point to 80.1% from the year earlier quarter.
Competitors to Watch: Microsoft Corporation (NASDAQ:MSFT), H&R Block, Inc. (NYSE:HRB), Fiserv, Inc. (NASDAQ:FISV), NetSuite Inc. (NYSE:N), salesforce.com, inc. (NYSE:CRM), Nuance Communications Inc. (NASDAQ:NUAN), Fidelity National Information Services (NYSE:FIS), Paychex, Inc. (NASDAQ:PAYX), Automatic Data Processing (NASDAQ:ADP), and Oracle Corporation (NASDAQ:ORCL).
Stock Performance: Shares of INTU are down 3% from today's close.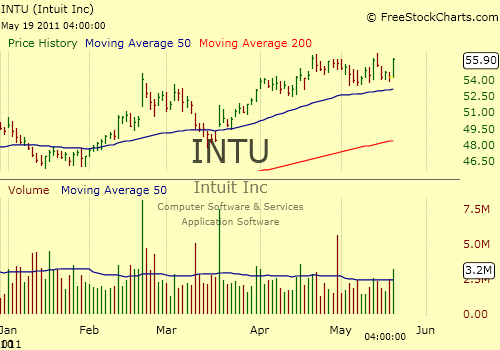 Don't Miss Wall St. Cheat Sheet's newest Feature Trades of the Month!