Inventory and Sales Data Prove Stable Despite Anemic Economy
U.S. equity markets edged higher on Friday afternoon, buoyed by a myriad of relatively positive news ranging from corporate earnings to economic data. Both Amazon.com Inc. (NASDAQ:AMZN) and Microsoft Corp. (NASDAQ:MSFT) beat earnings expectations and climbed as much as 8 percent and 6 percent, respectively. Adding to the generally optimistic aura surrounding the market on Friday are wholesale trade sales and inventories data, which came in slightly better than expected in August.
The U.S. Census Bureau reported that sales from merchant wholesales increased 0.6 percent on the month to $428 billion and are now up 5.6 percent on the year. Durable goods sales climbed 0.9 percent on the month and 5.4 percent on the year, with strong sales of +3.1 percent in computer peripheral equipment and software. Nondurable goods sales increased 0.3 percent on the month and are up 5.7 percent on the year, with strong sales of +3.1 percent in chemicals and allied products.
Meanwhile, wholesale inventories increased 0.5 percent on the month, the largest since January, and are now up 2.5 percent on the year. Durable goods inventories climbed 0.6 percent on the month and 5.3 percent on the year, led by gains in motor vehicles and motor vehicle parts of +2.4 percent, and electrical and electronic goods of +1.1 percent. Nondurable inventories climbed 0.5 percent on the month and 1.6 percent on the year. Petroleum inventories increased 2.8 percent on the month.
Critically, the inventories-to-sales ratio remained effectively unchanged at 1.17, although it is down from 1.21 from the year-ago period. Economists and market participants can use the inventory-to-sales ratio to determine whether production will increase or decrease in the coming months. Production generally slows as inventories rise and firms need to work down the build, and production increases as inventory declines as firms work to avoid shortages.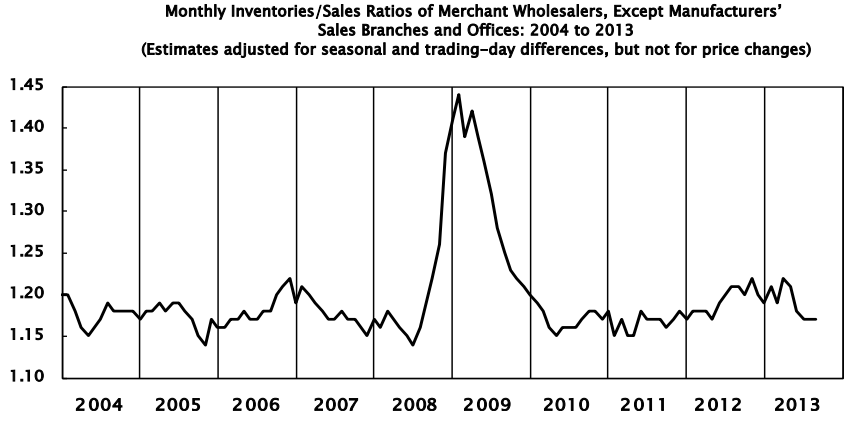 It's not all sunshine and happiness on Friday, though. Wholesale trade data were solid and corporate earnings have been generally strong, but the recent partial shutdown of the U.S. government and still-anemic economic recovery in the country are still an anchor on overall conditions.
Evidence of this surfaced in the October reading of the Thomson Reuters/University Michigan consumer sentiment index, which fell to 73.2 from a preliminary reading of 75.2, and came in well below September's reading of 77.5. It was the worst reading since December. The results were worse than expected: On average, economists expected a final reading of about 75 for October. The consumer sentiment index has missed expectations for two consecutive months and has declined for three months in a row.
Don't Miss: Americans: Legalize Marijuana and Ring the Cash Register.