Investors Await Google and IBM Q1 Results and 3 Other Hot Stocks
Google (NASDAQ:GOOG): Investors, observers and analysts alike are gearing up for this afternoon, when search giant Google and computer titan IBM (NYSE:IBM) are scheduled to release their quarterly results. Google's earnings per share is expected to rise from $10.08 to $10.69, while IBM's earnings are anticipated to grow to $3.05 per share up from $2.78.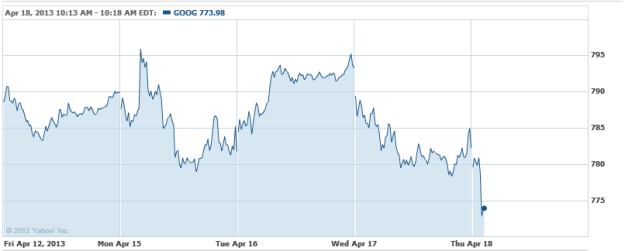 Toyota Motor Co. (NYSE:TM): The parent company of Lexus is announcing that for the first time in the luxury company's history, vehicles will start being manufactured in the United States. The state of Kentucky has offered the company $146.5 million in tax breaks to build the cars at its Georgetown facility, where it is said to begin building the Lexus ES model beginning in 2015. Currently, the model is only built at Toyota'sKyushu plant in Japan.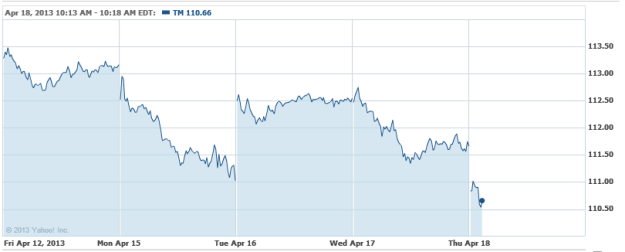 Theravance (NASDAQ:THRX): Shares of Theravance exploded in pre-market on Thursday morning, following the backing from an advisory panel for the FDA. The panel instructed the agency to approve the drug maker'sBreo Ellipta COPD drug, which is inhaled as treatment for smoking-related lung damage. Theravance engineered the drug with Britain's GlaxoSmothKline (NYSE:GSK), which has a 27 percent stake in Theravance.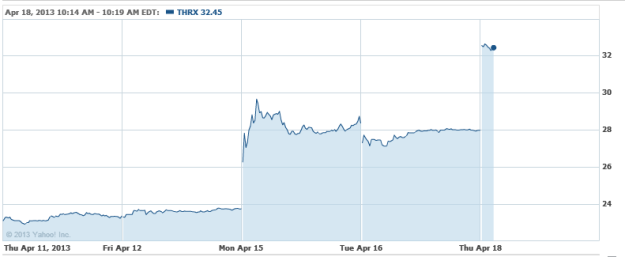 Boeing Airlines (NYSE:BA): Some mixed news for Boeing this morning. On the positive side, the FAA has informed Japanese carriers that the flight ban on the 787 Dreamliner jets could be lifted as early as this month. The aircraft have remained grounded since January 16 following a couple of incidents with the new lithium ion battery packs. On the not-as-positive side, the European regulatory body is conducting a probe into a component flaw on the Rolls-Royce Trent 1000 engines, which are equipped on the 787. The company is leaving the inspections up to the convenience of the engine operators, a Rolls-Royce spokesman said.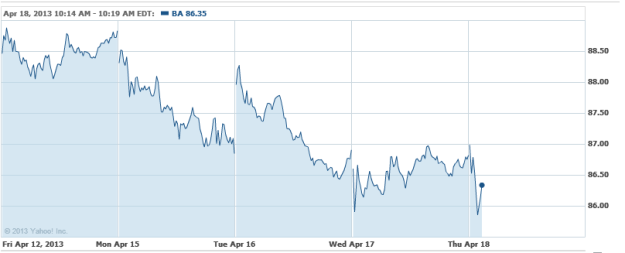 Don't Miss: Is the Era of Nokia Over For Good?